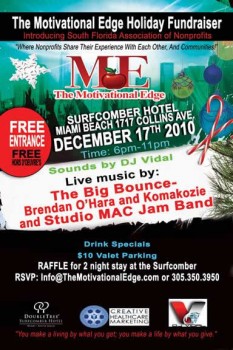 Please join us for The Motivational Edge Holiday Party
December 17th from 6pm-11pm
Surfcomber Hotel
1717 Collins Ave., Miami Beach, FL, 33139
RSVP by calling 305.350.3950 or email Info@TheMotivationalEdge.com
A minimum donation of $10- gives you the chance to Win A 2 Night Stay At The Surfcomber!
Valet Parking: $10
Join us for an amazing evening of great music, cocktails and FREE Hors d'Å"uvre's to support the underprivileged children of The Motivational Edge!
Performances By: "The Big Bounce" -Brendan O'hara and Komakozie! Jordan Robinson and Studio MAC Jam Band!
Special Performance By Henry Isasi- High Sky!
Sounds by DJ Vidal, DJ Foxx & Wasabi!
The guest list is comprised of philanthropists, leaders from various community organizations, family foundations, business owners and like minded individuals.
"You make a living by what you get; you make a life by what you give."
www.themotivationaledge.com
We will also be introducing: South Florida Association Of Nonprofits
Initiated by Ian Welsch, Founder and CEO of The Motivational Edge and Erica French, COO of Educate Tomorrow, helps nonprofits and its members increase awareness, donations and referrals, wh…ile also targeting cost effective services for all involved, bettering the communities of South Florida.
www.sflnonprofits.org
"Opportunity, The Best Gift A Child Can Receive"
If you can't make it to the event and would like to make a donation, you can do so online here.