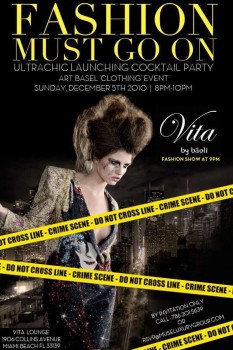 Fashion Must Go On – Art Basel 'Clothing' Event
Introducing Ultrachic, Italian's Finest Blend Of Art And Fashion
Private Launch Cocktail Party At Vita
Sunday, December 5th, 8-10pm
1906 Collins Avenue
Miami Beach Fl 33139
RSVP: rsvp@museluxurygroup.com
Facebook evite.
Youtube Video.
Art and Fashion lovers do not miss this! Italian's most glamorous, upcoming brand is hosting a very exclusive cocktail party for the launch of its brand in the United States. The reception will feature a meet and great, cocktail reception and fashion show, giving you a unique opportunity to get a glimpse of Ultrachic's creative, avant-guarde, hot designs.
Largely influenced by Pop Art and Rock'n' Roll. Ultrachic is an upcoming Italian fashion brand that uses art as its main support. The man behind the brand, designer Diego Dossola, is a renowned talented artist who has worked closely with Armani, Versace, and Dolce and Gabbana.
Born in 2006 in Milan, Ultrachic is a rapidly growing label that has gained tremendous popularity in Europe, Asia and in the Middle East. Its upscale, eccentric and colorful pieces successfully sell in the trendiest fashion retailers in the world, such as Banner and Gente in Italy, Ueno Shokai in Tokyo and Harvey Nichols and Bloomingdales in Dubai, and have been featured in Italian, French and British Vogue, Elle UK, and many more.
The event will present to the public a selection of Ultrachic's Summer collection, Ultrachic SS11. This new season incorporates unconventional artistic materials, such as imprint graffiti and ads or yellow crime scene tape.