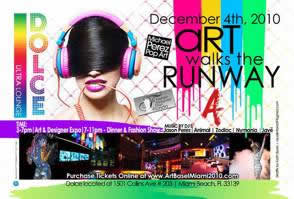 Art Walks the Runway
Dolce Ultra Lounge,
1501 Collins Avenue, #203,
Miami Beach, Florida 33139
December 4th, 2010
2:30pm – 3:00pm: Doors Open
3:00pm – 7:00pm: Art & Designer Expo
7:00pm – 11:00pm: Dinner & Fashion Show
For RSVP please email: rsvp@mandrakepr.com
Come out and celebrate Art Basel in style. Abnormal Ariginals invites you to a special function where art meets fashion in the runway.
Abnormal Ariginals, Designer T-Shirts
Founded by De'Hollie Wood and Anthony Shaw, two young entrepreneurs with an immense amount of fashion potential, bring to life this new fashion brand. For the past couple of years, they have cultivated their ground and are finally ready to spread their empire, one step at a time. Abnormal Ariginals' first introduction into the fashion industry is their latest collection of men and women's T-shirt, with a vast variety of designs and graphics to choose from.. They share one similar ingredient, originality, but in this case "ariginality".
Its present collection reflects the distaste of monotony apparel while offering a set of new and wearable proposals. Their first collection, titled Welcoming Abnormality, brings forth versatile personalities, made from 100% cotton and each showcasing bright vivid colors with Abnormal Ariginals peculiar fun factor. Abnormal Ariginals is a lifestyle brand that represents true originality! Its designers believe in the need to speak out their unbiased minds through their outspoken designs. There was a time when being different was not a good thing, you were considered an outcast and left in the dark. Abnormal Ariginals has replaced "what supposedly is" and taken it to a higher level of creation. Being the same is not an option. www.abnormalariginals.com.
Michael was born and raised in New York City. While attending school, which included the High School of Art and Design in Manhattan, Parsons School of Design and Pratt Institute, he sold his paintings on the streets of Greenwich Village. Michael Perez, has quickly become one of the hottest Modern Pop artists today. Always on the cutting edge, his art is extremely dynamic and is distinguished by his use of contrasting colors and shapes. His innovative artwork is most immediately recognized by his distinctive unique faces, flowers and figures.
Michael is best known for his "America The Beautiful" a special painting painted live on a news broadcast of News12 Long Island a month after the tragedy. The painting shows a woman's face with the reflection of the World Trade Center in her eye, with a tear on her face. Her hair is red and white, symbolizing the American Flag.