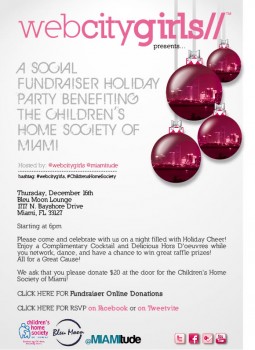 Thursday, December 16 at 6:00pm
Bleu Moon Lounge
1717 N. Bayshore Drive
Miami, FL 33132
Facebook evite.
Tweetvite.
Donate Online.
Please join WebCityGirls and Twitter Friend @Miamitude for a Social Fundraiser Holiday Party benefiting the Children's Home Society of Miami.
Established in 1902, Children's Home Society of Florida (CHS) is one of Florida's oldest private not-for-profit organizations providing services to children and families.
We ask that you please donate $20 at the door, which provides new clothing and shoes for a neglected child. Your donation will make many homeless abused Children in Miami Dade very happy and grateful!
Our Christmas Party will be full of entertainment, music, dancing, awesome raffle and a lot of Twitter Fun with special WCG_TJ on site! We will also have "Step & Repeat" for all of the Fun Social Photos!
WebCityGirls & @Miamitude are looking forward to sharing FUN times for a Great Cause. Wishing you all a Wonderful Cheerful Holiday Season!