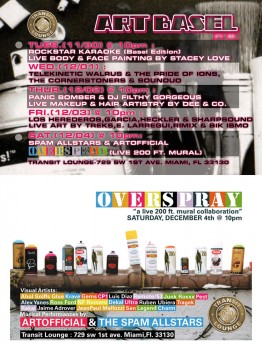 Transit Lounge
729 sw 1st ave
Miami, FL
All Shows at 10:00pm, 21+, FREE!
Nov 30 – Rockstar Live Band Karaoke Jams (Basel Edition); Live body painting by Stacey Love and FREE SHOTS from UV Vodka
Dec 1 – Telekinetic Walrus & The Pride of Ions, The Cornerstoners, and SOUNDUO; With live painting and artwork displays.
Dec 2 – PANIC BOMBER & DJ Filthy Gorgeous; Live hair and make-up artistry by Dee&Co. Salon
Dec 3 – Los Herederos; Garcia, Heckler, & DJ Sharpsound; Live art by Trek 6, E. Larregui, RIMX, BIK ISM;
Dec 4 – Spam Allstars and ArtOfficial; OVERSPRAY
"OVERSPRAY" – Dec 3-4
A showcase of Miami 's premier mural & street artists. The exhibit consists of 16 artists collaborating on a "live" outdoor mural project at Transit Lounge. Participating Artists include NF Romero, FIFTYTHREE, Jaime Adrover, CP1, GEMS, AHOL SNIFFS GLUE, JUNK, KRAVE, PEST, ULTRA, DEKAL, Ruben Ubiera, Luis Diaz, J.P. Mallozzi, Ross Ford and Alex Yanes.
Transit Lounge is celebrating Art Basel all week long with performances by some of Miami's most creative and influential musicians and artists. Best of all? There isn't a cover on any of the nights!