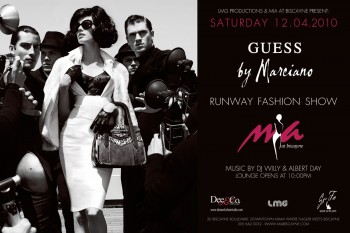 Guess by Marciano Runway Fashion Show
Dec. 4th 2010, 10pm
MIA on biscayne
20 Biscayne Blvd. Miami Florida 33132
www.sx-fo.com
Dec. 4, 2010 (Keeping Up with The Kardashian's) Club MIA and Guess by Marciano have teamed up to make the hottest Party/Fashion show of the year right in the heart of Downtown Miami. Guess by Marciano will be featuring all the new looks for the new season and what to expect in high end fashion for 2011.