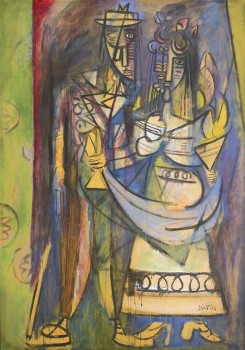 Cernuda Arte at Art Basel Miami Beach
12/2/10 – 12/5/10, 12 noon – 8 p.m.
Art Basel Miami Beach
Miami Beach Convention Center
www.cernudaarte.com
Cernuda Arte at Art Basel Miami Beach
It is with great pleasure that we announce our forthcoming participation
– for the first time – in one of the most prestigious international art fairs
Art Basel Miami Beach December 2-5, 2010
at the Miami Beach Convention Center, BOOTH H2.
Cernuda Arte will feature a sterling show of "Twentieth Century Cuban Modernists" (from the 1920s through the 1960s), including works by, Wifredo Lam, Víctor Manuel, Amelia Peláez, Eduardo Abela, Mario Carreño, Carlos Enríquez, Fidelio Ponce de León, Mariano Rodríguez, René Portocarrero, Cundo Bermúdez, among others.
The new edition of our annual publication, Important Cuban Artworks, volume nine, a 132-page-full-color catalog – documenting over 200 works – will be presented during the fair.
Show Dates and Hours: Thursday, December 2 to Sunday, December 5, 2010:
Daily from noon to 8 p.m., Sunday until 6 p.m.
For further information: Cernuda Arte 305-461-1050 / cernudaarte@msn.com