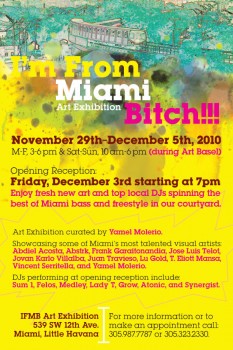 I'm From Miami Bitch!!!
Opening Reception: Friday, December 3rd from 7 pm to ?
Zona Verde
539 SW 12th Avenue
Miami-Little Havana, FL. 33130
I'm From Miami Bitch!!!
Art Exhibition curated by Yamel Molerio
November 29th to December 5th
I'm From Miami Bitch!!! Art Exhibition will be opening its doors from November 29th to December 5th, 2010 during Art Basel. The opening reception will be held Friday, December 3rd from 7pm-?. The exhibition will showcase some of Miami's most talented visual artists.
Featured artists are: Abstrk, Abdiel Acosta, Frank Garaitonandia, Jose Luis Telot, Jovan Karlo Villalba, Juan Travieso, Lu Gold, T. Eliott Mansa, Vincent Serritella, and Yamel Molerio.
There will also be DJs spinning the best of Miami Bass and Freestyle in the courtyard. DJs performing are Sum 1, Felos, Medley, Lady T, Grow, Atonic, and Synergist.
We will be open M-F, 3-6 pm and Sat.-Sun., 10 am – 6 pm.
For more information or an appointment call 305 987 7787 or 305 323 2330.
I'm From Miami Bitch!!!
Art Exhibition
Come to the artist reception for some great art, music, and much more. Remember we are also open from Nov.29-Dec.5. Welcome to Miami.