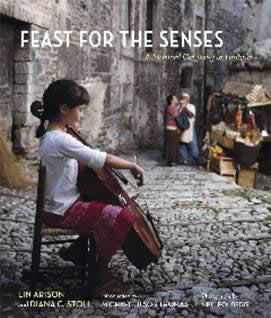 Author Lin Arison Talks About New Book, Feast for the Senses, A Musical Odyssey in Umbria
Books & Books Hosts Two Book Readings
Wed., Dec. 15, at 8:00 p.m. at Books & Books, 265 Aragon Avenue, Coral Gables
Wed., Jan. 5, 2011 at 7:30 p.m. at Books & Books, Bal Harbour Shops, 9700 Collins Avenue, Bal Harbour.
Bal Harbour resident Lin Arison presents her latest book, Feast for the Senses, A Musical Odyssey in Umbria, at two different readings this winter. Part memoir, part travelogue, this lushly illustrated multi-media book showcases New World Symphony musicians performing in the most beautiful and rare Italian locations, and features all the sites, foods, crafts and festivals that give the Italian region of Umbria its unique character.
The idea for the book was sparked while sitting inside the Teatro Francesco Torti. Arison, co-founder with Michael Tilson Thomas of the New World Symphony, had a thought: "What would happen if two wonderful elements were brought together: the music of New World Symphony and the landscapes of Umbria?" The result is, indeed, a feast for the senses, as Arison follows her dream and takes readers on an unforgettable journey through Umbria in the company of Michael Tilson Thomas and members of the New World Symphony.
Feast for the Senses was co-written by Diana C. Stoll, with an introduction by Michael Tilson Thomas and original photographs by Neil Folberg.
The book is also about falling in love with two things at once, "a process that was so exhilarating that I knew I had to share it," Arison writes. "In these pages, we invite you to accompany us on our voyage – and partake in the feast."
Also included with the book are three remarkable DVDs:
· Keeping Score, Michael Tilson Thomas on Music
· Music al Fresco, a short documentary on the New World Symphony musicians in Umbria
· Michael Tilson Thomas & Frank Gehry: A Dream Constructed, a conversation between MTT and the celebrated architect and designer of the NWS's new Miami Beach campus and performance space, opening in late January 2011.