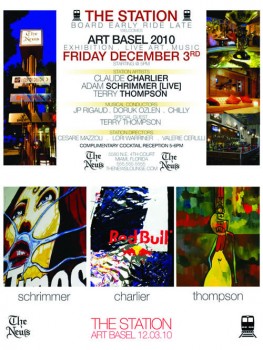 Terry Thompson Art Basel 2010 Exhibition at The Station
12/3/2010, 5pm-3am
The News Lounge
5580 NE 4th Court
Miami, FL 33137
www.the55streetstation.com
Exhibition, Live Art & Music
Complimentary cocktail reception 5pm to 6pm
No cover
Artist:
Claude Charlier
Adam Schrimmer
Terry Thompson
Music:
JP Rigaud
Doruk Ozlen
Chilly
Special Guest Terry Thompson
Part Visual Artist, DJ, producer, and modern day renaissance man. As a producer, this veteran dj hit the big leagues with his international smash hit "Shine" on the Defected UK label. His track was featured as a New Essential Tune on Pete Tong's BBC Radio show in 2007. Also released during the WMC conference that same year and played by djs from all around the world. Terry is no stranger to Art Basel or Miami. He performed at various venues in South Beach over the last 5 years.
Terry is also a well-known visual artist. His second one-man exhibition, titled Party People (2007) in the Sub-Basement Art Gallery's 20,000 square-foot massive space in Baltimore rocked. The show featured an array of works linked by expressive and mystical relationships between transient and communal party people. For example, Touched the Sky is a large-scale painting named after the popular underground dance track released this year by Dennis Ferrer. Much like the lyrics of the song, the painting captured the colors, rhythms and synergy on dance floors in New York, Miami, London, and Ibiza. Thompson paints mini grid-like windows filled with hieroglyphics figures. In each painting he creates his own language that on the surface resembles musical notes. However, when you look at them closely there is more to the story than meets the eye.
Other works shown were Shine, Rej, Milk and 2 Sugars, Chinkara, and Sosue. Most of the works represented a chic blend of cultures, spirits, and passionate grooves from the underground dance scene.
Terry Thompson was born in Chicago, IL. He is a self-taught artist and was an artist-in-residence for 3 years at Baltimore's School 33 Art Center. Thompson has had various exhibitions including: Flash Art Museum, Trevi, Italy (1998), World Fine Art Gallery, New York, (1999), School 33 Art Center Bi-annual (1999, 2001) Maryland Art Place (2005), Artexpo 2005, New York (2005), Sub-basement Artist Gallery (2005,2007). He holds a Masters of Science in Administration from Central Michigan University.
Join us as one of our favorite underground house dj return for a special ART Basel addition at The Station at The News Lounge in Miami.
Curated by JP Rigaud
Artaholics may have their ArtBasel Miami schedule planned out, but a comprehensive trip is not complete without a visit to The STATION at the News Lounge ArtBasel exhibition. Curator JP Rigaud assembled a fascinating group of mid-career artists that are reshaping the landscape of contemporary art. Terry Thompson's (a Chicago-born artist) large scaled abstract paintings are a familiar blend of Picasso, Miro, and Basquiat with magical twist. Thompson's distinct bold colors and encryptions of miniature like shapes and symbols require major decoding. Like all masterpieces, his works are mysterious with many hidden clues to a purposeful allusion.
Also exhibiting are French Photographer Claude Charlier and Adam Schrimmer. Charlier is known for his fashion and artistic photos. Adam Schrimmer's art can be scene throughout Miami in various public spaces including some of hottest hotels in South Beach. Schrimmer will perform live paintings during the exhibition.