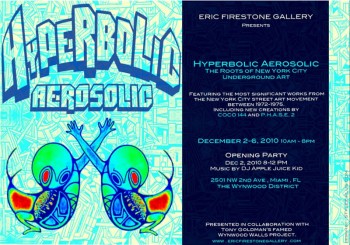 Hyperbolic Aerosolic: The Roots of New York City Underground Art
December 2-6
Opening Reception: December 2, 8pm-12 am
2501 NW 2nd Ave, Miami, FL in the Wynwood Art District. (Across from Joey's Restaurant)
Website.
Eric Firestone Gallery presents Hyperbolic Aerosolic:
The Roots of New York City Underground Art December 2-6, 2010
Exhibition Hours:
Thurs. Dec. 2:12pm-12am
Fri. Dec.-Sun. Dec. 6:10am-8pm
Mon. Dec.6: 10am-6pm
This exhibition showcases the earliest and most significant works from the New York City street art movement between 1972-1975.
This exhibition features rarely seen, boldly conceived works by early street artists P.H.A.S.E. 2 and COCO 144 and includes works by Snake 1, Mico, Lee 163, and Stitch, among others. Presented in conjunction with Tony Goldman's famed Wynwood Walls project, this is one of the most important exhibitions of these early works in the last 35 years.
The subway art movement began in the early 1970s, years before the media and art world discovered it. Using aerosol spray paint and the physical landscape of the city as a canvas, the originators of this genre began by "writing" their names in as many places as possible—on walls, building facades, and subway cars, often under the veil of darkness and in all cases, under threat of arrest. Their colorful, stylized signatures were a rebellious means of self-expression and a way of gaining notoriety and self-respect.
In 1972 the United Graffiti Artists collective was founded. Through the UGA, members made the critical transition from writing on subway cars to writing on canvases in studio settings. Works produced under the auspices of the UGA, many on view in Hyperbolic Aerosolic, maintained the same raw energy that characterized street compositions. Highlights from this short-lived venture included the creation of a 30-foot collaborative mural at the Razor Gallery in Soho in 1973, described by New York Times critic Peter Schjeldahl as "a glory, a cleaner, more brilliant version of a lovingly worked over subway car," and a major exhibition at the Chicago Museum of Science and Industry the following year.
Once the downtown media and the art world embraced what came to be known as graffiti in the 1980s, it exploded into a worldwide phenomenon, spawning countless gallery shows and museum exhibitions. And while the establishment embraced the art, it overlooked the originators of the form.
"P.H.A.S.E 2 and COCO 144 inspired a lot of artists of the 1980s and influenced the whole logo and branding culture that followed," says David Schmidlapp, artist, activist and the publisher of International Graffiti Times, the first 'zine devoted to street art. "But the big story is that these first-generation artists have continued painting and influencing culture though all of the intervening decades. Museums are now defining street art as one of the major movements of the 20th century but they have their facts twisted. These early artists started a movement but have been completely overlooked."
In light of the upcoming 2011 MoCA retrospective curated by director Jeffrey Deitch, Hyperbolic Aerosolic promises to be a seminal event in the continued process of legitimizing the street art genre. P.H.A.S.E. 2 will show a new body of work, and he and COCO 144 have collaborated on a 176-foot mural that will be unveiled at the opening of this year's Wynwood Gates project.
COCO 144
COCO 144 is considered a master and pioneer of the early 1970s subway/street art movement. While painting on trains he created the first stencils, enabling him to tag his name with great speed. He maintained a unique style and was one of the first writers to channel that energy on to a canvas. In 1972, COCO co-founded the United Graffiti Artists. COCO's studio work includes references to geometry or biology juxtaposed with his name or fragments of his name. His paintings have been shown in art galleries and museums consistently for over 30 years, including the celebrated 2009 group show displayed in the Grand Palais, Paris, entitled Le Tag.
In COCO's own words: "I feel that both P.H.A.S.E. 2 and I are creating an art form with a language that is not totally understood yet. In the street/subway culture we called ourselves "writers." "Graffiti" was what the media labeled us. Quite simply, we both consider ourselves artists. Technically the work speaks for itself."
P.H.A.S.E. 2
P.H.A.S.E.2 is a first generation subway writer and was among the first 'writers' to exhibit and display the culture as an art form in the early 1970s. A founding father of the basic and wildest lettering styles in the subway art movement, many of the components he introduced to the culture have become adopted worldwide. Since then, P.H.A.S.E 2 has been in countless worldwide group exhibitions: highlighting with First European Hip Hop Tour in 1982, doGroninger Museum, (Holland) in 1985 and in 1992,"Urban Mythologies", the Bronx Museum in 1999, the Rock and The Roll Hall of Fame's "Roots: History of Hip Hop Exhibition" in 1999-2002.
He is also known as a hip-hop pioneer for his artistic flyers (and musical and dance talents), which set a foundation in the South Bronx in the mid-late 70's for a growing culture. These "Hip Hop Ads" created a distinctive style emulated by underground cultures and major companies including Ecko, Unltd, Adidas, Nike, Def Jam and Tommy Boy Records.
His decade-long collaboration with IGTimes as art director and editor culminated with the publishing of Style: Writing from the UnderGround in 1996.
ERIC FIRESTONE
Gallery owner, curator, and tastemaker, Eric Firestone has been in the art business for 16 years, with a permanent presence in East Hampton, NY and Tucson, AZ.
A native of Miami, Florida, Eric attended the University of Arizona, and opened his first gallery in Tucson, Arizona in 1994 at age 22. His goal has always been to introduce audiences to material that might be unfamiliar and heighten appreciation by framing art in its proper historical context. Over the past five years his focus has been on exhibiting underrepresented post war modern abstract painters. "Eric has made a long-term commitment to these artists' success," said Jim Ballinger, Director of the Phoenix Art Museum. "He has always sought out quality scholarship in order to ensure the quality of the work he represents."
He has recently taken on curatorial interests in popular culture movements. From "Warhol: Dylan To Duchamp," which featured the largest collection of unseen images of Andy Warhol (May, 2010), to the "Down By Law" installation that showcased rarely seen works of the NYC street and underground art scenes. (September 2010) This winter he will mount exhibitions in Manhattan, where he will continue to present important and unrecognized street art that has inspired so much contemporary work.