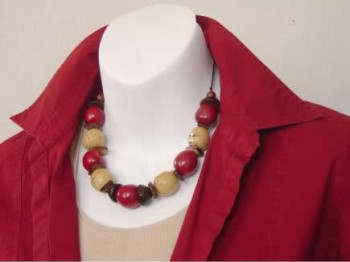 Buy Now
Bombona seeds from the Colombian Pacific Coast and chunky pieces of coconut shell are the canvas for this boho, chic necklace. This color combo is especially great for fall.
It has an adjustable knot that allows you to wear it short or long. Length: Princess style 19″ or Matinee style 24″ approx. Matching earrings included.
Made by Irma Guzman Eco Jewelry
Irma Guzman Eco Jewelry is an online shop of necklaces and accessories made of seeds from South America. Irma Guzman, owner and designer, takes her inspiration from her love to nature and has created a line of, eco friendly, one-of-a-kind quality… read more
Usually ships the next business day.