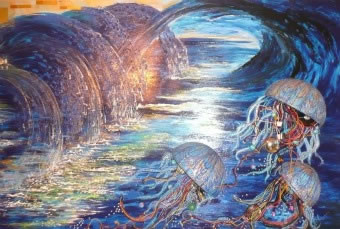 Art Walks the Runway
Michael Perez Pop Art Gallery
Midtown Miami
Wednesday, Dec. 1 – Sunday, Dec. 5, 11am-Midnight
Meet the Artists VIP Reception, Wednesday, Dec. 1, 5-7pm
followed by the Art Miami After Party in Midtown
for more information: MyPublicist@hotmail.com
www.ArtBaselMiami2010.com
The Michael Perez 2010 Dream Series
Daniel Azoulay, Photography
Guest Artist, Debbie Lee Mostel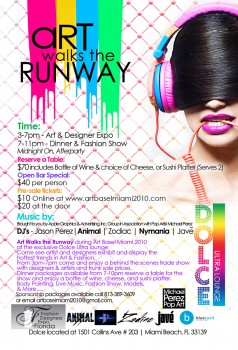 Saturday, December 4, 3-11pm
At Dolce Ultra Lounge
1501 Ocean Drive, Southbeach
The team at The Michael Perez Pop Art Gallery is at it again! ART BASEL 2010 brings with it a huge burst of energy in Midtown Miami, with the Scope and Art Miami tents a stone's throw away from our front doors, the buzz has been growing each day as the most anticipated Art event in the United States [that we plan all year long for] rapidly approaches.
Always pushing the envelope, the gallery team is bringing a new twist to Art marketing, setting a precedence for events to follow in coming years with integrity, branding, support, teamwork, style and economic endurance through a series of truly innovative events this year: Fashion Gallery© and Art Walks the Runway©
"Art Walks the Runway" during Art Basel Miami 2010 at the exclusive Dolce Ultra lounge at 1501 Ocean Drive. Come see artist and designers exhibit and display the hottest trends in Art & Fashion. Saturday, December 4, 2010 From 3pm-7pm come and enjoy a behind the scenes trade show with designers and artists from the show and trunk sale prices. Dinner packages available from 7-10pm reserve a table for the show and enjoy a bottle of wine and and choice of cheese or sushi platters. You don't want to miss this show!
Fashion Gallery©
The Michael Perez Pop Art Gallery team has brought in Fashion Designers Expo Florida, the best up-and-coming full scale fashion show production company in Florida for Art Basel Events in Midtown and even for a day on South Beach. We are working to brand each company and to raise the standard for emerging talent as we prepare them for representation in highly competitve outside art and design markets. From Wednesday, December 1- Sunday December 5, 2010 at The Michael Perez Pop Art Gallery, [Open 11am-Midnight] and on December 4th,2010 at Dolce Ultralounge on 1502 Ocean Drive and Collins Ave.
-Models mingle with Gallery and Expo guests each day while showcasing emerging designers' clothing, swimsuits, accessories, jewelery, and couture gowns – All in the name of Art! The designers we have chosen will be showcasing their most artistic and eccentric designs to complement the Art of our chosen, talented Artists.
Art Basel Comes to Midtown
Special Guest Artist Debbie Lee Mostel "Technology Deconstructed,
Nature Reconstructed"
Michael Perez Pop Art Gallery
www.michaelperez-artist.com
Debbie Lee Designs & Fine Jewelry
When we met Debbie Lee she was wearing an awesome necklace that looked like Princess Leia's missing prop from the filming of Star Wars. "I call it a 'laser pick-up contraposto!" she excitedly explained. It was in short order that we realized that this exceptionally talented designer's skill and personality are reflected directly in her gigantic, earthy, bright and shiny, recycled-technology, and even kinetic art pannels and pieces. With clocks and thermometers, wire, and even miniscule dolls and mirrors, Mosel's globes and 3D masterpieces take on life to enchant the observer. Some of them even glow in the dark! Her background is in the mastery of the wholesale jewelry business including design as well as management of operations,finance, and the great responsibility of organizing successful campaigns for participation in national trade shows and public relations between department stores that carried her designs such as Bloomingdales, Nordstrom, Macy's and Saks Fifth Ave. You can also find her transforming the yards of the lucky into magnificent 'Butterfly Gardens' through her thriving lanscaping business "Earth, Wind and Flowers" based in Palm Beach Gardens, Florida.
Meet the Artist and Exhibition Running
Wednesday, December 1st – Sunday, December 5th, 2010
The Michael Perez Pop Art Gallery Miami
Special Art Basel Gallery Hours 10am-Midnight
Find "Debbie Lee Mostel" on Facebook