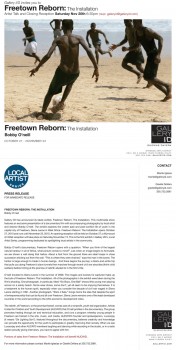 Gallery I/D
2531 NW 2nd Avenue Miami, FL 33127
Saturday Nov 20th 7:30
artist's project statement
Freedom in body…Pain in mind,
History filled with regrets
Moving in pictures…Speaking in poetics,
Communication reminds who forgets
Dreams in reality…Strength in faith,
Love will not allow a sequel
Forward in thinking…Futuristic in belief,
True beauty shifts perspective of the people.
Gallery I/D has announced its latest exhibit, Freetown Reborn: The Installation. This multimedia show features an exclusive presentation of a documentary film with accompanying photography by local artist and director Bobby O'neill. The exhibit explores the violent past and post-conflict life of youth in the capital city of Freetown, Sierra Leone in West Africa. Freetown Reborn: The Installation opens October 27, 2010 and runs until November 24, 2010. An opening reception will be held on October 27; a Wynwood Art Walk reception will take place on Saturday November 13.
Bobby O'neill's documentary, Freetown Reborn opens with a question: "When you think of the largest natural harbour in all of Africa, what picture comes to mind?" Just when an image begins to formulate, we are shown a wall along that harbor. About a foot from the ground there are steel hoops in close succession sticking out from the wall. "This is where they were chained," says the man in the scene. The harbor is large enough to trade in human beings. And there begins the journey; a black-and-white trip that pulls you along Freetown's slave tunnels then marches through recent civil war atrocities (think child soldiers) before hinting at the promise of rebirth alluded to in the film's title.
O'neill traveled to Sierra Leone in the summer of 2009. The images and scenes he captured make up the bulk of Freetown Reborn: The Installation. All of the photographs in the exhibit were taken during the film's shooting. One photograph, in particular, titled "Six Boys, One Ball" shows lithe young men playing soccer on a sandy beach. Some wear shoes, some don't, yet all seem to be enjoying themselves. It is a testament to the human spirit, especially when you consider the decade of civil war waged in Sierra Leone starting in 1991. Another photograph, "Stick 4 Sale," brings home the idea that despite the spirit of entrepreneurship that can be found all over Freetown, Sierra Leone remains one of the least developed countries in the world according to the UN's economic development index.
The rebirth, of Freetown, or the promise thereof, comes care of a nonprofit, youth-led organization, Artists United for Children and Youth Development (AUCAYD) that O'neill profiles in the documentary. The group promotes healing through art and technical education, and runs a
program whereby young people in Freetown are trained in the arts, music, and media. AUCAYD's founder and spokesperson, Luxsonjay (it means "De Lighting Son"), featured throughout the documentary, believes creativity and knowledge can provide the opportunity for the youth to participate in greatly improving their society. When we see Luxsonjay and other AUCAYD members laughing and dancing while recording in the studio, or in a radio station proudly giving interviews, you have to agree with him.
A portion of sales from Freetown Reborn: The Installation will benefit AUCAYD.
Bobby O'neill was born in the metropolitan city of Toronto Canada in the early 70's. As a teenager he dove deeply into the performing arts, touring overseas first as a dancer and eventually a poet.