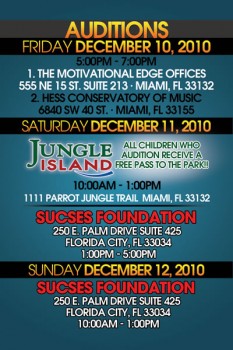 Nina's Kids Children's Choir Inspired by the life and music of Nina Simone
Auditions December 10-12, 2010
Mission: To educate, nurture and motivate musically talented children to achieve the highest level of musical artistry and to provide children with an opportunity to perform at a variety of venues; locally, nationally and internationally. All music will be influenced by the works of Nina Simone, whose life and passion for music is the inspiration for this program.
Nina's Kids is an inspirational ensemble band and children's choir, mainly serving underprivileged and underserved youth, ages 5-18. There is one ensemble band comprised of 4 teenagers, with guest appearances of course, and there are 3 choral groups; Apprentice, Intermediate and Concert.
AUDITIONS:
Friday, December 10, 2010 at 5:00PM-7:00PM
The Motivational Edge Offices: 555 NE 15 St. Suite 213 Miami, Fl 33132
Hess Conservatory of Music: 6840 SW 40th St. Miami, FL 33155
Saturday, December 11, 10:00AM-1:00PM
JUNGLE ISLAND 1111 Parrot Jungle Trail | Miami, Florida 33132
Saturday, December 11, 1:00PM-5PM
SUCSES Foundation 250 E. Palm Drive, Suite 425 Florida City, Fl 33034
Sunday, December 12, 2010 from 10:00AM-1:00PM
SUCSES Foundation 250 E. Palm Drive, Suite 425 Florida City, Fl 33034