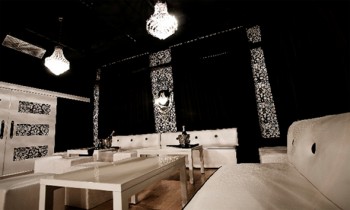 Ecco Lounge
168 SE 1st St # 1A-2, Upstairs
Miami, FL
Website.
By Talmage Thornhill
There's a new night life venue on the Miami scene, and it made quite an impression on this young woman.
Enter the venue from a downtown Miami street where a bouncer shows you through a small lobby and to a large stairway leading up and into the night's adventure. Scope the room and note Ecco Lounge is small, though not cramped and feels quite comfortable. The drinks are strong and almost cheap by this sobe girl's standards. The bartenders and other staff do their job competently and with a smile. On the night of my visit, the music was outstanding so props to the events staff for booking awesome electronic music talents Kate Simko and local Sebastian Cariaga.
The set up of the room lends itself to drinking, dancing and relaxing. The DJ booth is slightly raised and in front of a window facing the dance area and bar behind it. To one side are couches if you prefer to relax and on the other is what I like to call the Washroom VIP. Yes, technically it is just a bathroom, but it's freakin great! Lovely decor, quite clean, ample stalls, sinks, and supplies, and an adorable seating area. Guys, don't get suspicious about your girl's party habits if she lingers too long in the ladies' room. She's probably just chatting up her friends in a quiet environment.
My only disappointment is that smoking is allowed inside, but such is the status quo in Florida so my gripe would probably be more useful were it correctly directed to our fair state's public health department, but I digress.
I hope Ecco Lounge continues to book DJs and plan unique events, because it is quite possibly perfect for my current after dark desires. Volume, lighting, staff, drinks, and even temperature were all on point. Now when was the last time you could say that about a night life venue?