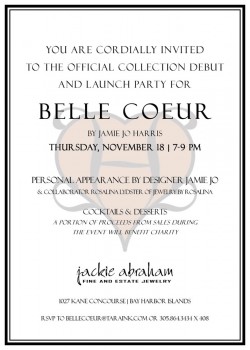 Jackie Abraham Fine And Estate Jewelry To Host Launch Party For Rocker-Chic Jewelry Collection Belle Coeur By Songwriter Jamie Jo Harris
Thursday, November 18, 2010
7:00 p.m. to 9:00 p.m.
Jackie Abraham Fine and Estate Jewelry
1027 Kane Concourse
Bay Harbor Islands, FL 33154
RSVP: bellecoeur@taraink.com
Personal appearance by designer Jamie Jo & collaborator Rosalina Lydster of Jewelry by Rosalina
Jackie Abraham Fine and Estate Jewelry will host the official Miami launch party for jewelry line Belle Coeur by Jamie Jo Harris on Thursday, November 18, 2010 from 7:00 to 9:00 p.m. On the heels of two successful launch events at Blue & Cream in East Hampton and Fred Segal Santa Monica — notable attendees included legendary pop icon Paula Abdul, among others – the luxury retailer will celebrate the Miami debut of the hit songwriter's rocker-chic collection with an intimate reception and viewing. Guests will enjoy complimentary Solerno Blood Orange Liqueur cocktails and Belle Coeur branded bite-size sweets from 2 Girls and a Cupcake while perusing the line's debut collection and mingling with designer Jamie Jo and her collaborator, celebrity jeweler Rosalina Lydster of Jewelry by Rosalina.
Channeling Jamie Jo's love of music, fashion and philanthropy, Belle Coeur, or a "beautiful heart" in French, features a selection of interlocking, oxidized silver pendants, cuffs, rings and earrings marked with the line's signature agate-, white, pink and black sapphire-encrusted symbols of wings, hearts and keys each embodying the designer's free spirit. Notably, Belle Coeur will donate a portion of the proceeds from sales during the event to charity. For more information on Belle Coeur, please visit www.BelleCoeur.cc.
In addition to launching Belle Coeur nationwide, Jamie Jo is also actively immersed in her career as a hit songwriter. A member of the Songwriters Hall of Fame, Jamie Jo is currently working with nine-time Grammy Award-winning producer Rudy Perez to produce a selection of songs to be presented to his A-list clients including Leona Lewis and Beyonce, among others. Having earned acclaim for her contributions to the music world, such as a chart-topping duet with Barry Gibb of Bee Gees fame, Jamie Jo is often recognized for her social affiliations as well, having walked the runway at various charitable fashion shows and been appointed hostess of events and store openings for some of the world's most recognized designers. As founder and first President of the Young Society for Love & Hope-Diabetes Research Institute, Jamie Jo is an active and respected philanthropist.