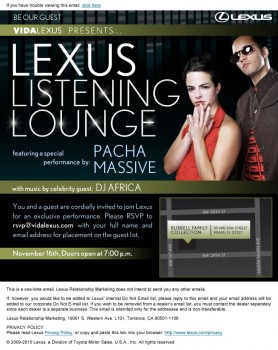 Vida Lexus Presenta…The Lexus Listening Lounge
November 16, 2010, 7:00-10:00pm
Rubbell Family Collection
95 NW 29th Street, Miami, FL 33127
RSVP@vidalexus.com
Lexus Listening Lounge Featuring a special performance by Pacha Massive with music by celebrity guest: DJ Africa. Enjoy complimentary Drinks, Hor d'oeuvres & Valet Courtesy of Lexus.
Thank you for using Soul Of Miami!