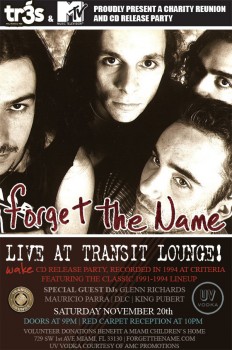 MTV Networks Latin America Present: Forget the Name Charity Reunion
Saturday, November 20, 2010, 9pm, Red Carpet Reception at 10pm
Transit Lounge
729 SW 1st Ave, Miami, FL 33130
www.forgetthename.com/?p=53
MTV Networks Latin America present a charity reunion show and CD release party for FORGET THE NAME, a popular mainstay of the late 80's South Florida music scene, who will be releasing "Wake," a collection of unreleased songs recorded at the revered Criteria Studios in 1994. The event will be held at Transit Lounge on 11/20. The event will be free, with a suggested donation benefiting a local children's charity and entitling all participants to special prizes and exclusive FTN merch.
There will be a red carpet reception at 10pm.
Special Guest DJs include Glenn Richards (WSHE, WVUM, ZETA), Mauricio Parra (Tr3s), DLC (Tr3s) and King Pubert (Roofless Records).