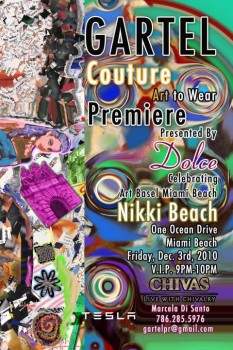 GARTEL Couture Art to Wear Premiere
December 3rd, 2010, 8PM-2AM
NIKKI BEACH
One Ocean Drive
Miami Beach 33139
vimeo.com/user5036291
Digital Media Artist GARTEL changes his "canvas" to high couture and will reveal his latest creation of "Art-to-Wear" custom outfits. GARTEL's Computer Generated imagery has been challenging the world for the past three decades beckoning all to say, "how does it do it?" The catwalk will be filled with light and flowing fabrics from dresses to bathing suits. Join GARTEL at Nikki Beach on Friday December 3rd from 8PM to 2AM.
Artful DJ Beats by Chilly and Soul P, Special Singer Performance by singer/songwriter M'DELA, Percussion drums, Body Painting, and charity auction of one of a kind GARTEL hand painted bathing suits.