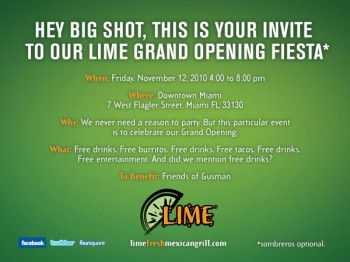 GUSMAN SUPPORTERS: Lime Fresh Mexican Grill® has opened its seventh South Florida location in the heart of Downtown Miami and is celebrating with an event THIS FRIDAY to benefit Friends of Gusman! The event, which is open to the public, will include free food, drinks, music by DJ Cardi and Lime's famous PuckerFace photo booth. Watch this YouTube video to learn more about Lime's newest location and Friday's special benefit event.
Lime will present a $5,000 donation to Friends of Gusman and guests will have an opportunity to bid on tickets to an upcoming Miami Heat basketball game.
Parking on Flagler Street is FREE after 6 p.m. and parking in the Miami Parking Authority's new Courthouse Center garage (40 NW 3rd Street, two blocks north of Lime) is only $1 per hour after 6 p.m.
Join us!