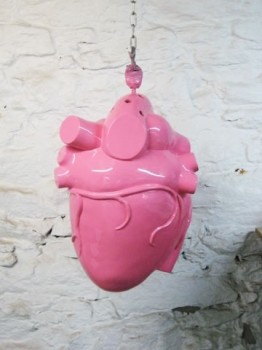 Artcenter/South Florida's Sugar Rush For Basel:
Presenting Good N' Plenty Exhibit And Sweet Jesus Installation
Opening Night December 1, from 8:00 to 10:00 p.m.
William Cordova, Luis Gisbert, Edouard Duval Carrie, Alex Heria and More Break Out for
25 Years of Outstanding Contemporary Art
ArtCenter/South Florida is proud to celebrate Art Basel Miami Beach with eye candy galore. Presenting Good N' Plenty, a group show featuring current and alumni artists-in-residence at the main gallery located at 800 Lincoln Road; and Sweet Jesus, an installation by Alex Heria about religion bedazzled in the second floor windows of 924 Lincoln Road. The opening reception is slated for Wednesday, December 1, 2010 from 8:00 to 10:00 p.m., and works will be on view through January 2, 2011. This event is free and open to the public. For more information, please call 305.674.8278 or visit the website at www.artcentersf.org.
Good N' Plenty
800 Lincoln Road at Meridian Avenue, Miami Beach
Good n' Plenty is a spotlight on ArtCenter/South Florida artists, from the first year the organization opened its doors until today. Established in 1984 by a small group who envisioned a cultural renaissance in a then-blighted and vacant avenue, this exhibit aptly coincides with ArtCenter's 25th year and the 50th anniversary of Lincoln Road Mall by paying homage to past and current artists-in-residence with their most recent works. Good N' Plenty is curated by alumni Kristen Thiele, who witnessed the non-profit's development since its inception when her mother, Shirley Henderson, joined as one of its first artists-in-residence.
Participants include founding artist Ellie Schneiderman; luminaries William Cordova and Luis Gisbert; Haitian Diaspora artist and community leader Edouard Duval Carrie; Brandon Opalka; TMsisters; Gavin Perry; Beatriz Monteavaro; Carlos De Villasante; David Packer; David Rohn; Diane Hanson; Franklin Einspruch; Jenny Brillhart; Jonathan Peck; Joshua Levine; Juan Carballo; Julie Davidow; Kerry Phillips; Kristen Thiele; Luisa Basnuevo; Sara Stites; Shirley Henderson; Susan Lee Chun; Tawnie Silva; Vickie Pierre; Vincent Hemphill; William Keddell and Yolanda Sanchez.
Sweet Jesus by Alex Heria
Second Floor Windows, 924 Lincoln Road between Jefferson and Michigan Avenues, Miami Beach
Blending religious iconography with jewels, glitter and gold, mixed media artist Alex Heria illustrates the age-old relationship between Catholicism and money with visual effects and photography, found objects and carnival lighting. The bold installation will be on view in the second floor windows of ArtCenter's 924 Lincoln Road property, creating a heavenly, tricked-out arch above the primary entranceway.
Additional happenings at ArtCenter/South Florida during the week of Art Basel Miami Beach include:
· "Gift of Art" – ArtCenter's 40 artists-in-residence have created limited edition prints that will be available free of charge to visitors with vouchers. Vouchers will be distributed at the opening event on Wednesday, December 1, 2010.
· "Art Dummy" by David Rohn – Artist David Rohn will perform an interactive piece centered on his experience with Facebook.
· Good N' Plenty Brunch – On Sunday, December 5, from noon to 3:00 p.m., meet the artists and curator Kristen Thiele for brunch at 800 Lincoln Road where coffee, chocolate and pastries will be served.
· Artist studios – ArtCenter's artist-in-residence studios located at 800, 810 and 924 Lincoln Road will be open to visitors. Walk-ins welcome; for more information visit http://artcentersf.org/_artists/artists.php.
Established in 1984, ArtCenter/South Florida (located at 800, 810 and 924 Lincoln Road, Miami Beach) is a non-profit 501(C)(3) organization that provides subsidized studio and exhibition space as well as teaching opportunities for emerging and career artists in their facilities at 800, 810 and 924 Lincoln Road, Miami Beach. The mission of the ArtCenter is to advance the knowledge and practice of contemporary visual arts and culture in South Florida while providing affordable programming and work-space for professional artists. ArtCenter/South Florida is open Monday through Thursday from 11:00 a.m. until 10:00 p.m. and Friday through Sunday from 11:00 a.m. until 11:00 p.m. For further information please call 305.674.8278 or visit the website at www.artcentersf.org.
Exhibitions and programs at ArtCenter/South Florida are made possible through grants from the Miami-Dade county Department of cultural Affairs, the Cultural Affairs council, the Miami-Dade mayor and Board of County Commissioners; The Children's Trust; the City of Miami Beach Cultural Arts Council; the City of Miami Beach Community Development Block Grant Program; the Miami Beach Mayor and City Commissioners; the State of Florida, Florida Department of State, Division of Cultural Affairs, and the Florida Arts Council; the Dade Community Foundation and the Chestler Family Fund at Dade Community Foundation; ArtéCity; Target and Walgreens.