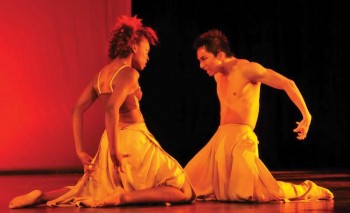 November 19 & 20; 7:00 PM
November 21; 2:00 PM
New World Dance Theater
25 NE 2 Street, 8th Floor, downtown Miami
General admission, students and seniors $10
For information call 305-237-7855Information at 305-237-3541
Tickets Available Online.
Exhilarating World Dance Celebration Launches Season
With an exhilarating 3-day performance and over 110 dancers, NWSA and UF again collaborate to present World Dance Celebration, one of the most exhilarating and dynamic performances of the year. With more than fifty-five college and high school dancers performing to the beat of live drums and recorded music, the concert features choreographic works from contemporary world modern dance to traditional African dance. Choreographies include excerpts from Peter London's full-evening ballet Vespers for Frida, Robert Battle's classic signature work, BattleField, an exhilarating modern dance performed to the rhythms of African drums, and NWSA Dean Daniel Lewis' classic work, And First They Slaughtered The Angels, first performed in New York in 1974. Under the direction of Mohamed DaCosta, The University of Florida will round off the program with three traditional African works: Sewourouba Dance and Kawa, from Guinea, and Bawaa from Ghana.