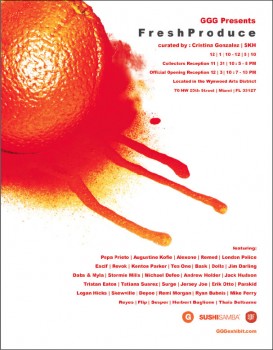 GGG2010 presents Fresh Produce
December 1 – 5, 2010, 11am – 8pm
70 NW 25th Street, Wynwood
Miami, FL 33127
btwn NW 2nd ave & N. Miami Ave in Wynwood
A reception will be held on Friday, December 3 from 8 – 10pm
www.gggexhibit.com
Graffiti Gone Global (GGG) launches its fourth consecutive year with an exhibition of street and graffiti art running parallel to Art Basel Miami Beach. Entitled Fresh Produce, GGG's installation explores the gray area between the street and the gallery, while adopting the quintessential farmers' market mantra of "fresh." Powered by SUSHISAMBA Fresh Produce is curated by Christina Gonzalez — aka She Kills He — and will feature work from today's top street and graffiti artists, as well as a collaboration with Operation Design and a new large-scale installation by Dutch artists Haas & Hahn. Fresh Produce is produced in collaboration with Primary Flight and will be housed in a 7,000-square-foot venue in the Wynwood Arts District and will open to the public on December 1. A reception will be held on Friday, December 3 from 8 – 10pm.
GGG's Fresh Produce will feature a roster of international artists, including: The London Police, Revok, Erik Otto, Skewville, Pepa Prieto, Augustine Kofie, Alëxone, Kenton Parker, Tes One, BASK, Dolla, Jim Darling, Dabs & Myla, Stormie Mills, Michael De Feo, Andrew Holder, Jack Hudson, Tristan Eaton, Tatiana Suarez, Surge, Jersey Joe, Remed, Parskid, Logan Hicks, Escif, Depoe, Remi/Rough, Ryan Bubnis, Mike Perry, Reyes and from the Family Baglione: Flip, Sesper, Thais Beltrame and Herbert Baglione and others.