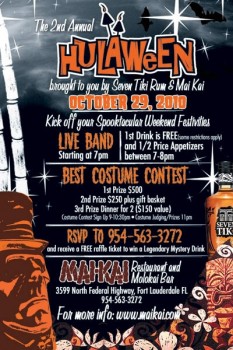 Fri 10/29
Hulaween Party
7 Pm
Our Second Annual Hulaween Party Best Costume Contest With Cash Prizes And Performance By "The Hep Cat Boo Daddies"
Join us for The 2nd Annual HULAWEEN Party brought to you by Seven Tiki Rum and the Mai-Kai. Kick off your Spooktacular Weekend Festivities in the Molokai Bar.
1st Drink is Free (some restrictions apply) and 1/2 Price Appetizers between 7 – 8 pm.
RSVP to 954 563 3272 and receive a FREE Raffle ticket to win a Mystery Drink!
Costume Contest Sign Up between 9 – 10.30 pm. Costume Judging/Prizes 11 pm:
1st Prize $500, 2nd Prize $250 plus Gift Basket 3rd Prize Dinner for 2 ($150 value)
The Hep Cat Boo Daddies are known for their raw-edged and unique style and have won many awards and incorporate a wide variety of styles for a great combination of original high energy music (rock, blues, rockabilly, surf and funk) that electrifies their fans…