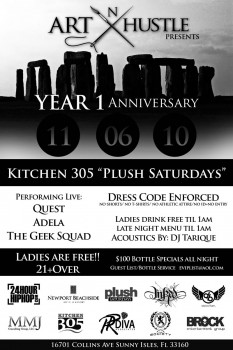 Art N Hustle Celebrates 1st Anniversary
Newport Beachside Hotel and Resort
16701 Collins Ave., Miami Beach, FL 33160
November 6th, 10:00PM – 5:00AM (ET)
Art N Hustle is celebrating its first year in the south Florida urban arts community with its Year 1 Anniversary Party on November 6th, 2010. It will take place at Kitchen 305, which is located at 16701 Collins Ave., Newport Beachside Hotel and Resort, Miami Beach, FL 33160 from 10:00PM – 5:00AM (ET).
Remaining true to their urban arts style they've teamed up with sponsors PR Diva Associates, 24Hr Hip Hop, Inked Productions, Da Bottom Clothing, MMJ Consulting Group LLC, Kitchen 305,The Society, and Brock Entertainment Group to bring you this sophisticated event. There will be live performances by:
· R&B singer/rapper Adela who has a hit single Feel It featuring Lil Wayne…
· Hip-Hop rap group The Geek Squad who received rave reviews off their mixtape Alternative Thinking and landed in the Miami New Times…
· Emcee QuEst who's all abuzz as an upcoming artist from Miami…
· And Acoustics by DJ Tarique…
Year 1 Anniversary Party is a way for Art N Hustle to say thank you to all of the artists and culture connoisseurs who've supported them along the way. Throughout the year Art N Hustle has produced two Poetry Jams hosted by Renda Writer of WeMerge Magazine and three urban art gallery exhibits in West Palm Beach, FL featuring popular artist such as Trek-6, Kazilla, Crash, Lady Pink, and Keith Harring with musical acts Arrivederci, Gem Heart, and The Malcriado.
"Art n Hustle was just an idea that came up watching a movie. It developed into this living organism that has grown into so many facets. We truly hope to open the eyes and ears of those in and out the urban culture to the world we live in", says Art N Hustle Founder Corey Knight.
This event is open to the public and you can RSVP on Facebook or arrive the night of the event. Please note that you must be at least 21 years old to attend (Must show I.D) and there is a strictly enforced dress code (no shorts, no t-shirts, and no athletic attire). Ladies in free all night drink free until 12:00am. The kitchen will be open until 1:00 AM (ET).
Art-n-Hustle is a full service branding-creative group specializing in art and fashion. They focus on aiding companies, artist and designers to create their identity and sell themselves to the world. This small creative group has developed a unique style of branding, by seamlessly combining urban and fine culture in their work. As Visionaries, Creators and Leaders, Art-n-Hustle has positioned itself as the voice of urban culture by using an innovative approach to allow clients to communicate their vision. They are leaders, setting new trends in a new world.