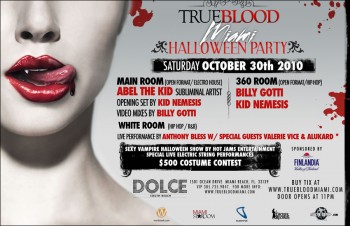 True Blood Miami Halloween Party
Saturday October 30, 2010, 11pm-5am
DOLCE Ultra Lounge
Dolce Ultra Lounge
1501 Ocean Drive
Miami Beach, FL. 33139
www.truebloodmiami.com
DOLCE Nightclub presents one of the leading house DJs, Abel the Kid, for an amazing Halloween performance. The Subliminal Artist recognized for his smash hit singles "In My Eyes" and "Tell Me" will be spinning at the South Beach premier club. True Blood Miami Halloween Party Saturday, October 30th, 2010 will have a unique sort of entertainment including a sexy performance to the True Blood theme with vampire dancers, a live electric string performances, and a $500.00 Halloween Costume Contest.
Come experience a night of vivid entertainment, as DOLCE recreates the haunted vampire vintage lair to bring us the hottest party of Halloween. For one night only the club will be decked out with scary, epoch décor from outside to inside. There will be special performances and live music acts on stage and throughout the club. Sexy costumes are also encouraged.
Recognized Miami and Ft. Lauderdale DJs such as Kid Nemesis and Billy Gotti team to perform a diverse set of top 40 hits, Hip Hop, and dance music in the 360 Room. Kid Nemesis will open for Abel the Kid as Billy Gotti will illustrate a gothic video mix. With VIP Access you have access to view the Hip Hop/ R&B live performances of Anthony Bless with special guests Valerie Vice & Alukard in the prestigious White Room of DOLCE.
Doors open at 11:00pm and bottle service will be available. This event is for persons 21 and over. DOLCE is located on 1501 Ocean Drive Miami Beach, FL 33139. To Buy Tickets or for more information please visit TrueBloodMiami.com. VIP call 305-735-9847
Produced by: Miami Stardom and Cacique Records
To buy tickets or information visit www.truebloodmiami.com.