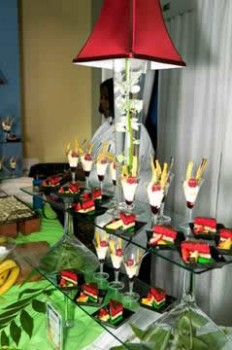 Miami-Dade Gay & Lesbian Chamber Announces Restaurant Participants for Second Annual "Taste Of Miami,"
ticket sales benefit MDGLCC Scholarship Program
Miami Beach Convention Center, Hall C
1901 Convention Center Drive
Miami Beach, FL 33139
Saturday, October 23, 2010
Explore/EXPO – 12 noon to 5:00pm
Taste of Miami – 5:00pm to 8:00pm
Explore/EXPO – FREE and open to the public
Taste of Miami – $45.00 advance; $60.00 at the door
"Taste" To Be Held In Conjunction With Third Annual "Explore/Expo"
The Miami-Dade Gay & Lesbian Chamber of Commerce today announced a partial line-up of restaurants participating in the second annual Taste of Miami, a VIP fundraiser to benefit the Chamber Foundation's scholarship program for area youth. Taste of Miami spotlights MDGLCC member restaurants who will offer signature dish tastings. Taste of Miami takes place on Saturday, October 23, from 5 p.m. to 8 p.m., in Hall C of the Miami Beach Convention Center, immediately following the third annual Explore/EXPO. Taste of Miami tickets are $45 in advance and $60 at the door.
Confirmed so far for the Taste of Miami are: China Grill Miami Beach, ChopHouse Miami, Hard Rock Café, Lucky Strike, Ocean Restaurant, Fit2Go-Healthy Gourmet, Centerplate, Karl's Catering, Escopazzo, Grey Goose Vodka and Brown Forman's Little Black Dress wines.
In addition to the Taste participants, MDGLCC is announcing some lively additions to the Explore/EXPO event, to be held immediately before the Taste event. Explore/Expo is free and open to the public from noon to 5 p.m., in Hall C of the Miami Beach Convention Center. Besides the business booths, Explore/EXPO will include entertainment from Dance Now, the Meat Cutter Jazz Trio, and other surprise appearances. Raffle prizes will include tickets to the new Cirque du Soleil show "Kooza," gift certificates to local area restaurants, and exciting vacation packages.
Sponsors of Explore/EXPO include IGLTA, The International Gay & Lesbian Travel Association; the Miami Beach Convention Center; The Miami Herald; and Miami.com.
"Attending the Explore/EXPO and Taste of Miami events are great ways to show support for businesses that embrace the local LGBT community and the $8 billion buying power we represent," said Steve Adkins, president of the MDGLCC. "If companies feel that their contributions to our community are being met with support, they will expand their investment and help champion the equality we so ardently seek."
The Miami-Dade Gay and Lesbian Chamber of Commerce is the largest not-for-profit corporation in the county for gay and lesbian businesses. With membership on the rise, the Chamber's mission is to promote a unified and thriving, gay and gay-friendly business and professional community throughout the county. The Chamber's goals are to promote networking within the existing gay and gay-friendly business and professional community; to promote business opportunities for Chamber members; to promote Miami as a year-round, gay and gay-friendly tourist destination; to provide resources for its members; and to provide outreach from the LGBT community to other organizations.
For more information on Explore/EXPO, including booth rental, or on Taste of Miami, including ticket purchases, visit www.gogaymiamiexplore.com, call the Chamber at 305-673-4440, or email mdglcc@bellsouth.net.
PARKING: 17th Street Municipal Garage
Surface Lot Across from the Convention Center
Parking Garage on Meridian between 17th & 18th Streets
Metered Street Parking
Photo credit – Dale Stine, image from the 2009 Taste of Miami.