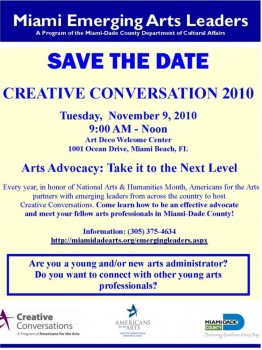 Miami Emerging Arts Leaders
A program of the Miami-Dade County Department of Cultural Affairs
SAVE THE DATE
CREATIVE CONVERSATION 2010
Tuesday, November 9, 2010
9:00 AM – Noon
Art Deco Welcome Center
1001 Ocean Drive, Miami Beach, Florida
Every year, in honor of National Arts & Humanities Month, Americans for the Arts partners with emerging leaders from across the country to host Creative Conversations.
Are you a young and/or new arts administrator?
Do you want to connect with other young arts professionals?
Come learn how to be an effective advocate and meet your fellow arts professionals in Miami-Dade County!
Information: (305) 375-4634
http://miamidadearts.org/emergingleaders.aspx