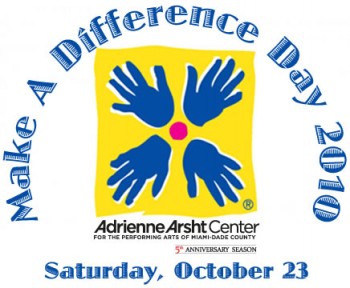 October 23, 2010 marks the 20th anniversary of Make A Difference Day, the largest national day of community service. Sponsored by USA Weekend and HandsOn Network, the day is a celebration of neighbors helping neighbors, with the common goal of improving the lives of others, embracing social responsibility, and connecting people and projects.
This historic Make A Difference Day is a time for awareness, that any individual can make a real impact on their community, on the life of another, or most profoundly, for themselves. In honor of this day the Adrienne Arsht Center will host an orientation for the community, describing the multi-faceted volunteer opportunities at the Center. The free seminar will outline ways to get involved and engaged with the Center's vibrant cultural community of over 400 volunteers, and earn rewards and benefits through volunteerism.
Make A Difference Day celebrates the person who wants to be the change. This day celebrates you!
Learn more about the difference and the impact that only you can make at the Adrienne Arsht Center, by joining us at the You Make A Difference Volunteer Orientation, on Saturday, October 23 @ 10:00 a.m.
Sign Up Today! Contact volunteers@arshtcenter.org to sign up and learn more.
The Adrienne Arsht Center for the Performing Arts of Miami-Dade County
1300 Biscayne Boulevard, Miami, FL 33132