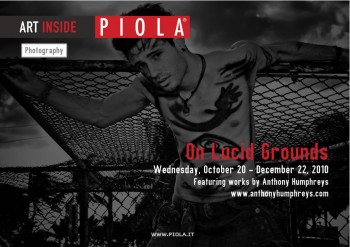 On Lucid Grounds – A Modern Photography Exhibition featuring works by Anthony Humphreys
October 20, 2010, 7:00PM to 9:00PM
Piola Hallandale Beach
Piola
1703 E. Hallandale Beach Blvd.
Hallandale Beach, FL
www.anthonyhumphreys.com
"On Lucid Grounds" | Modern Photography Exhibition
Featuring works by Anthony Humphreys
Showing Wednesday, October 20 through December 22, 2010
Opening Reception: Wednesday, October 20 from 7PM – 9PM
Wine & hors d'Å"uvre will be served.
Anthony featured as one of the "Art Inside Piola" artists for the end of 2010. Piola, an international Italian restaurant/art gallery fused into one. Piola opens its doors to culture, hosting film premieres, book & magazine events, art exhibitions & many other social and artistic activities.
www.anthonyhumphreys.com
Piola also is an editor and publisher: Piola's magazine embodies all that Piola brings to its international customers on a daily basis. 35,000 copies of a 48-page, full color, annual magazine, written in Italian and translated in 4 languages.
www.piola.it
Miami's Independent Thinkers is a South Florida-based non-profit organization promoting local emerging and premiere artists. Featuring painting, photography, sculpture, film, animation, performance, writing and mixed-media by some of South Florida's most talented creatives.
www.miamithinkers.com
Thank you for using Soul Of Miami!