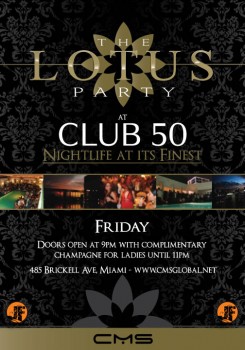 The Lotus Party
Friday October 8th, 10:00pm
Club 50
485 Brickell Ave
Miami, Florida
Facebook evite.
J.Fabian in Association with CMS
Brings You: Club 50 The Lotus Party
Featuring Exotic World Sounds in a Sophisticated International Setting
Fifty Stories up, Club 50 Reigns as Miami's Most Exclusive Lookout Point
Spectacular, Asian-inflected Private Pool and Lounge Atop The Hotel Tower.
Unforgettable Sounds by Local and International DJS
It is highly recommended that you reserve tables in advance to ensure admission. We Have Fabulous Bottle Specials.
To Rsvp – MiamiFabian@Hotmail.com or 786.942.2097
Upon Arrival Inform The Door Staff That You And Your Guests Are In Fabian's List
Guest list valid till 12:30am . To be on the Guest list please send us an Email OR a text 786.942.2097 MiamiFabian@Hotmail.com
21+.Dress code is strictly enforced.
Follow us on Twitter @miamifabian
www.QueCoCo.com
Dress code is strictly enforced
Great bottle prices
Complimentary entrance (assuming that you rsvp on time)