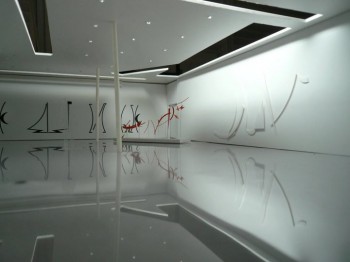 Nanín, a renowned Latin American contemporary artist, to exhibit for the first time in the United States
O. Ascanio Gallery presents the work of Venezuelan contemporary artist Nanín in an intriguing solo-exhibition featuring a selection of original works that challenge the imagination and transcends the space that contains it. Dubbed, Nanín: Recent Works, the series will be available for public viewing from October 16 through November 13.
Each work in the series was thoughtfully and scrupulously selected to complement, and ultimately transform, the gallery space. Each piece – made up of abstract, minimalist geometric figures – complements the next to form a unique alphabet, evocative of an extraterrestrial script. This fluid expression of secret codes and signature geometric abstractions, transforms thought into visual compositions.
Nanín was inspired by geometric and mathematical principles that support the idea of a hybrid language expressed through symmetries, asymmetries, repetitions and developments. Color harmonizes the series' structure and projects movement through an innate, subliminal context.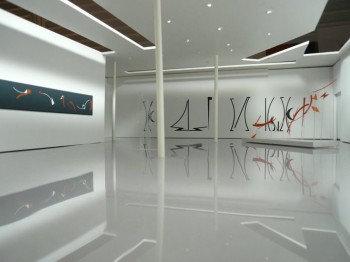 "Nanín brings an entirely new approach to contemporary art and the theme of abstraction, breathing new life into the genre," said Oscar Ascanio, the gallery's owner.
While working as an architect in Caracas, Venezuela, Nanín simultaneously toyed with a musical career. Both these experiences are evident in his artwork today. In the late '80s, he decided to follow his passion and pursued a career in art. Since then, Nanin's work has been shown extensively in France and throughout Latin America. He's had solo-exhibitions in venues that include:Espacio Meyer Zafra in Paris in 2008, Durant & Diego in Caracas in 2007 and Galeria Graphic Art in Paris in 2006. He also was part of a collective exhibition in Artbo in Bogota in 2006 and Feria iberoamericana FIA 2009.
Also noteworthy, he is a seasoned museum curator, taking part in organizing important exhibitions in Museo de Arte Moderno Jesus Soto de Ciudad Bolivar in 1992, in Museo de Arte Contemporaneo de Caracas in 1999 and in Primer Salon Bigott de Arte Popular en el Centro de Arte Maracaibo in 2006, among others.
Nanín was born in 1952 and he has garnered extensive publicity in his native Venezuela. He studied art in Escuela de Champertier in Paris (1978-1981) and architecture in Universidad Central de Venezuela (1981-1986). And was the apprentice to op and kinetic contemporary great, Carlos Cruz Diez, for 13 years (1978-1981 and 1981-1991).
In 1978 Oscar Ascanio opened his first gallery, Estudio 1, in Caracas which was dedicated to promoting and selling the works of Jesus Soto, one of the world's most famous contemporary artists. And in 1984 he opened Galeria Oscar Ascanio also in Caracas where he featured artists that included Alejandro Otero, Edgar Negret, Lina Sinisterra, Victor Lucena, Francisco Salazar, Bernar Venet, Bernard Aubertin and Fernando Mignoni. The recently opened O. Ascanio Gallery is located at 2600 NW Second Ave in the Wynwood Arts District. For more information call 305-571-9036 or visit www.oascaniogallery.com.