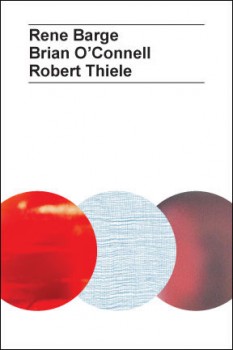 Dorsch Gallery is pleased to present three solo shows by Rene Barge, Brian O'Connell and Robert Thiele. A preview opening will be held on Friday October 8th from 6-9pm. We will also be open late for Second Saturday from 7-10pm.
Dorsch Gallery
151 NW 24 St
Miami, FL 33127
O'Connell will offer Drawing Seminar: How to Make Your Jeans Blue, a performative workshop about the indigo plant, on Saturday October 9th from 1-3pm. Bring something you want to dye.
Rene Barge: The Making of a Porous Body
The prints and videos in Barge's stellar body of new work are prismatic glimpses into pattern interactions with specific environments. Barge blends multiple filters and distortions via alternately human, natural and artificial agents, showing multiple aspects of change at once.
Brian O'Connell: The Illusion of Plans
New York – based artist Brian O'Connell (currently featured in PS1's Greater New York) presents The Illusion of Plans. In three separate installations, he reduces objects and structures to their most basic physical variables, allowing the complex histories of his materials and construction processes to come to the surface.
Robert Thiele: 8-Four-9
Thiele presents new work (all made within the last year) in the project room, in conjunction with the release of 30, a survey catalog accompanying his 2009 exhibition at Dorsch Gallery.
Other DG News
Arnold Mesches: Selections from Anomie 1492-2006, part of the Florida Artists Series, opens at the Patricia and Philip Frost Museum at Florida International University (FIU) on October 13 from 6-9pm. The event is free and open to the public. Selections from Anomie 1492-2006 runs through December 5, 2010.