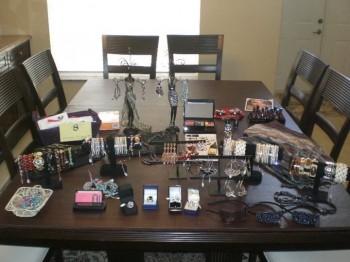 Sassy Classy Sneak Peak Event featuring With Love Boutique
10/17/10, 12pm-4pm
D Furniture Boutique (in the design district)
4742 sw 72 ave Miami, FL
Join us for an afternoon of STYLE and BEAUTY! Sassy Classy and With Love Boutique offer classic and trendy accessories and clothing for women of all ages. And with our low prices, a little goes a long way!
Join us at our exclusive shopping event as Sassy Classy reveal's their new line of custom made jewlery!
In addition With Love Boutique will showcase their fall collection and will be offering complimentary makeovers in support of Breast Cancer Research.
There will be raffles and light refreshments/snacks will be served. We look forward to seeing you there!
In the meantime, check us out online! Contact us with any questions
Sassy Classy
Contact: Nataly (305) 815-7481
Email: info@sassyclassyonline.com
Facebook page.
With Love Boutique
Contact: Melissa (305) 794-5985
Email: mely1015@aol.com
Facebook page.
Mary Kay Website.