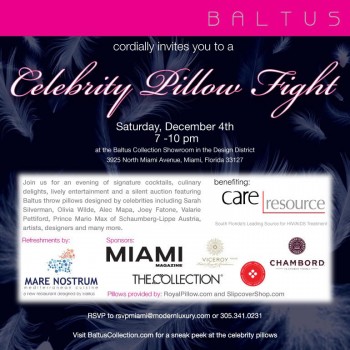 Pillow Fight For Care Resource
Saturday, December 4, 2010, 7:00 P.M.
Baltus Collection
3925 N. Miami Avenue
Miami, FL 33127
Pillow Fight For Care Resource
Baltus Collection Taps Celebrities And Artists Including Sarah Silverman, Alec Mapa, Kourtney Kardashian & More To Create Original Throw Pillows For Charity
It's the end of White Party Week and you're ready to sleep for days. To help you rest and relax in luxury Baltus Collection has teamed up with celebrities, artists and designers to create a line of one-of-a-kind throw pillows.
On Saturday, December 4, Miami's chicest crowd will be fighting over the pillows in a silent auction hosted at the gorgeous Baltus Showroom during an evening of cocktails, food and surprise entertainment. All proceeds will benefit Care Resource.
Local and national celebrities, artists, designers and socialites have offered their talents to Baltus Collection in support of Care Resources by creating one-of-a-kind designer throw pillows in styles ranging from quirky to elegant to priceless.
Celebrity designers include Actors Olivia Wilde, Sarah Silverman, Alec Mapa, Kourtney Kardashian, Nathan Lee Graham, Valerie Pattiford, Miss Universe Amelia Vega, artist Gregg Hamby, famed 3-D graffiti artist Erni Valdes, legendary designer Althea Harper and Miami darlings high-fashion designers Karelle Levy and Luis Valenzuela, and artist Noel Sanchez.
Baltus Collection is a high-end contemporary interiors and furniture design company that hails from Spain. Miami's Design District is home to its first US based showroom.
Care Resource is a non-profit, multi-cultural, community based HIV/AIDS community health provider. Care Resource is South Florida's oldest and largest HIV/AIDS service organization serving both Miami-Dade and Broward counties.