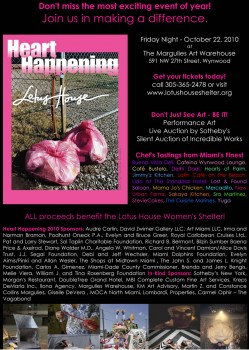 Heart Happening
October 22nd, 2010, 8pm
The Margulies Art Warehouse
591 NW 27th Street, Wynwood Arts District, Miami, 33127
www.lotushouseshelter.org
Don't just see art – BE IT! Join us for the spectacular Heart Happening benefiting the Lotus House Women's Shelter on October 22nd at the 45,000 square foot Margulies Art Warehouse in Wynwood. 45 mediums of art will be represented by 30 internationally renowned performance artists and will "happen" spontaneously throughout the night amidst the guests! Sotheby's are flying in to hold a live auction!
For tickets and info: www.lotushouseshelter.org or (305) 365-2478.
Please join us for the sixth annual fall fundraiser for the Lotus House Women's Shelter!
Don't Just See Art – BE IT!
Performance Art
Live Auction by Sotheby's
Silent Auction of Incredible Works
Chef's Tastings from Miami's Finest Buena Vista Deli, Cafeina Wynwood Lounge, Café Bustelo, Delhi Daal, Hearts of Palm, Jimmy'z Kitchen, Latin Café on the Beach, Lido at The Standard Hotel, Lost & Found Saloon, Mama Jo's Chicken, Mercadito, New Urban Farms, Sakaya Kitchen, Sra Martinez, StevieCakes, The Cuisine Marines, Yuga