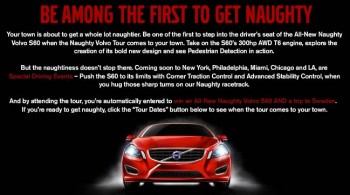 'Naughty Volvo Tour' Expands by Incorporating Drive Events into the All-New Volvo S60 Preview Experience
Miami: Gulfstream Park Race Track, October 2-3, 2010
More information about the Naughty Volvo Tour.
Consumers in Miami, Philadelphia, Chicago and Los Angeles can get behind the wheel of Volvo's new sport sedan before it enters showrooms later this month
Volvo Cars of North America, LLC (VCNA) will host special consumer drive events to showcase its all-new S60 sport sedan as it was meant to be experienced – on the road. These events are part of the Naughty Volvo Tour – a series of experiential events to preview the S60 – which began in July and will continue through November.
"Initial feedback from the Naughty Volvo Tour has been extremely positive and has resulted in nearly 200 S60 pre-sales to date, which is impressive considering no one's had the chance to drive the car yet. It really speaks to the strength of the car's beautiful new design, the enthusiasm of our loyalists and Volvo's reputation," said Doug Speck, VCNA president and CEO. "We really focused on the driving dynamics to make the all-new S60 our sportiest Volvo ever so we're excited to hear what people have to say once they drive it!"
The drive events will allow prospective buyers and car enthusiasts to take on the S60's 300 horsepower T6 engine with AWD in a series of performance activities like a slalom demo, suspension bumps, an "S" cornering exercise and a timed autocross. They can also experience Pedestrian Detection with Full Auto Brake, Volvo's groundbreaking technological solution which utilizes a radar- and camera-based system to detect pedestrians in front of the car, warn the driver if someone walks into its path, and then automatically activate the S60's full braking power if the driver fails to respond in time.
Attendees can participate in a competition to win an Apple® iPad, and will also be entered into a contest to win an all-new Volvo S60 and a trip to Sweden.