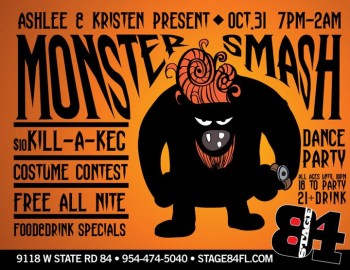 Monster Smash – Halloween Night Party At Stage 84
Oct 31, 7PM-2AM
STAGE 84 (Music Cafe)
9118 W State Road 84
Davie, FL 33321
954.474.5040
info@stage84fl.com
www.stage84fl.com
Official holy mackerel Taphouse
Kristen and Ashlee Presents Takes Over For Halloween, 7pm-2am
Costume Contest
$10 Kill-a-keg Special
Food & Drink Specials
All ages until 10pm
18 to party 21+ drink after 10PM
FREE ALL NIGHT
From 1pm-5pm we have
Funky Brunch with RUDY, YOUR FAVORITE GROOVY BAND IN THE LAND!
"Rudy's sarcastic piano-driven funk will no doubt bring down the house. Led by twinkler Robbie Gennet, the live show smacks of Billy Joel's craft, Cameo's delivery, and MAD Magazine's wit."
-SUN SENTINEL July 1999
Directions:
At Pine Ridge Plaza, the same shopping center as Round Up,
next door to Kabooms. Entrance at I-595 & Pine Ridge Dr.
Get to Interstate 595 in Broward. From the East, exit at Pine Island Road and turn left (south) at the light. Turn right into the Publix plaza, then drive through that plaza. Cross Pine Ridge Drive into the RoundUp plaza, and continue west until you see Dunkin' Donuts on your right and the lighted red sign MUSIC CAFÉ on your left. That's Stage 84!
From the West, exit Interstate 595 at Nob Hill Road and continue straight on the service road. Turn right into the plaza when you see Dunkin' Donuts. You'll see the lighted red sign MUSIC CAFÉ in front of you.
That's Stage 84!
stage84fl.com