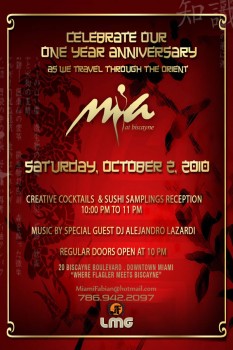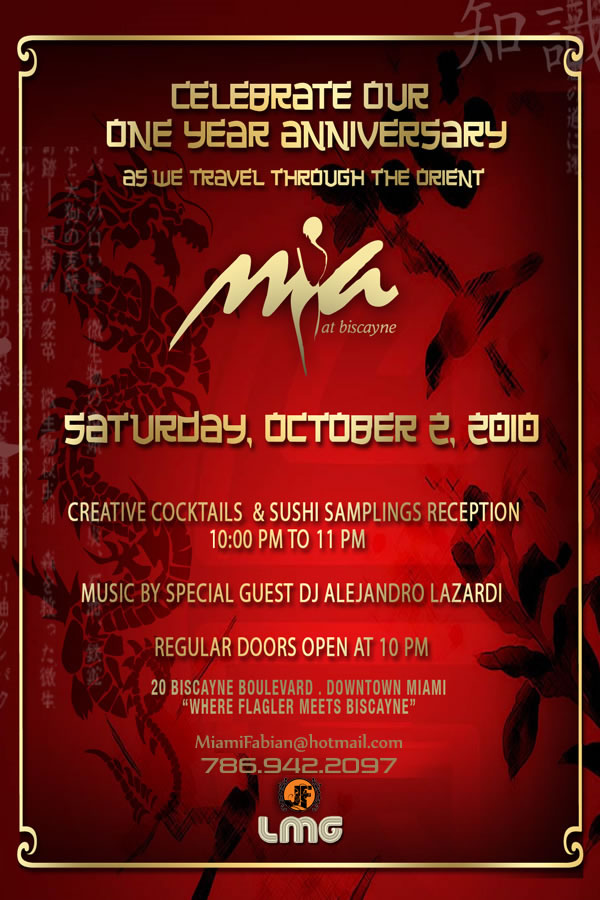 ✖Saturday ✖ Mia 1st Year Anniversary ✖ Open Bar✖ Free Sushi✖
October 2nd, 10:00pm
Mia Ultra Lounge
20 Biscayne Boulevard, Miami, FL
GOOGLE MAP
http://Mia.QueCoCo.com
J.FABIAN Requests the Honor of Your Presence
Come celebrate our One Year Anniversary, as we travel through the Orient!
Creative Cocktails and Sushi samplings.
Music by Special Guest DJ Alejandro Lazardi.
Cocktail Reception and Hors d'Oeuvres from 10:00pm to 11:00pm.
Youtube video.
rsvp + bottle + list
â–ºmust call or text to rsvp saturday before 4pm
â–ºfor the bday people i have 4 bottles for $500
â–ºno one can beat my prices
Table Revervations And Guest List Please Phone 786.642.2097
E-mail MiamiFabian@Hotmail.com
no t-shirt
no tennis shoes
no under age (21+)
no cover for guys till 12am*
no cover for girls till 1:30am*
*assuming that you rsvp on time
Follow Fabian http://www.myspace.com/miamifabian
complimentary entrance
complimentary drinks (10pm to 11pm)
complimentary sushi (10pm to 11pm)
assuming that you rsvp
786.942.2097
MiamiFabian@hotmail.com