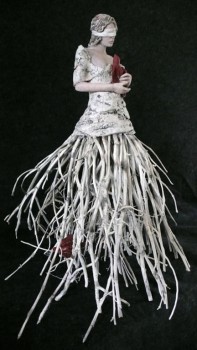 Grand Opening of
Dixie Art Loft
Presenting
Out On A Limb
Exceptional Works by Exceptional Artists
Opening Thursday, October 14, 2010, 5 to 8 p.m.
On Thursday evening, October 14, from 5 to 8 p.m., the Dixie Art Loft will open its doors with an Invitational Group Art Exhibit showcasing local celebrity, as well as newly emerging artists. The exhibit will continue through Saturday, November 20, 2010.
The Dixie Art Loft is a new gallery space created by Betty Wilson, artist and founder of the Craft Gallery. Her efforts on behalf of local and national artists have introduced new artists and their works to the Palm Beach County community for nearly three decades. This gallery will feature Exceptional Work by Exceptional Artists on a regular basis. All shows will be juried, presenting the best of what the nation and region has to offer. It will showcase ceramics, paintings, photography, sculptures, glass, jewelry and mixed media. The space is designed with the artist, the art collector and the avid art buyer in mind.
Out on a Limb is the starting point from which both literal and metaphorical art will be created. Wilson's special talents in designing themes for her exhibits have led to an extraordinary body of work by the many artists she has presented. She has captured this work in a collection of books available to the public. They have become an almanac of the range of brilliant work created by local artists.
The opening reception will be a work of art in itself, featuring a fine-art culinary display of hors d'oeuvres, wine and music organized by Betty Wilson and the many artists involved with the Craft Gallery. For information, visit www.DixieArtLoft.com or contact Betty Wilson at (561) 585-7744.