Soul Sundays
The News Lounge
5580 NE 4th Court
Miami, FL
Starting this Sunday, October 3rd at 7pm
Kickoff party and birthday bash for Shantel Baker from the original Supremes band. To refresh your memory, here is the Youtube link for one of their songs.
The News Lounge is a really cool spot to hang out, relax, and network at the same time.
You can get a better feel for it in person, so come and see for yourself this sunday.
Facebook evite.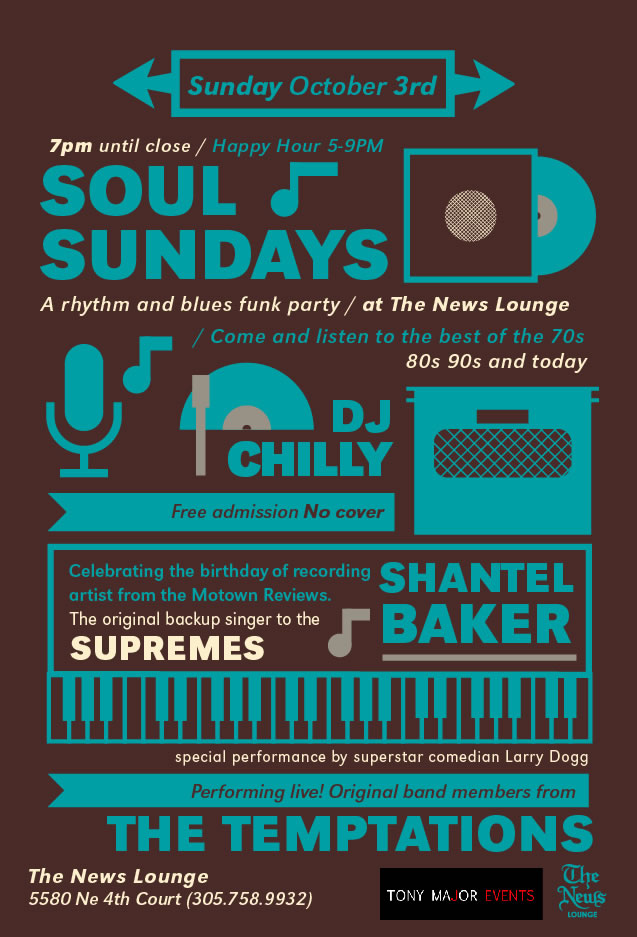 Tony Major Events invite you to come and celebrate!
Shantel Baker from the SUPREMES is celebrating her birthday with all of us!
It's the KICKOFF party for our new Soul Sundays!
A rhythm and blues funk party every sunday @ News Lounge!
Performing live! The original members from the TEMPTATIONS!
Special performance by superstar comedian Larry Dogg
Dj Chilly Playing the best of 70s, 80s, 90s, and today!
The best Happy Hour in Miami! from 5pm to 9pm
$3 Heineken, Corona, Amstel Light, Miller Lite
$4 Merlot and Pino Grigio
$4 House Vodka, Gin, Rum, Tequila & Bourbon
$5 Prosecco
$6 Bacardi Mojitos (Strawberry or Original)
$6 Moleca Cachaça Caipirinha (Strawberry or Original)
$6 Dirty Martini (Stoli or Absolut)
$6 Lychee Martini (Stoli or Absolut)
FOOD
$3 Bruschetta
$4 Ceviche Avocado, Tuna Avocado
$6 Sliders (Beef, Tuna, Salmon, Vegetarian)
Thank you for using Soul Of Miami!