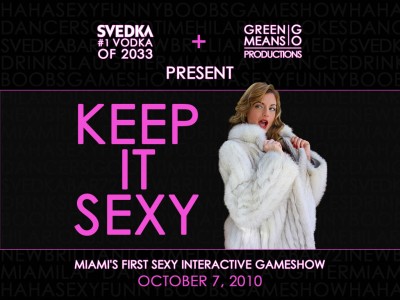 Keep It Sexy
10/7/10, 8:00 P.M
Bar 721
721 N. Lincoln Lane
Website.
Alcohol, bananas, and whipped cream! Those are just 3 things to expect at Miami's most outrageously sexy, interactive event. A dance pole, and some blow up dolls will all be part of the fun to win some seriously sexy prizes!
Sexy prizes include: (Tattoos, pole dance lessons, gift cards for lingerie and adult goodies)
Not in the mood to play? Come in and relax, your first drinks is on our sponsor, Svedka Vodka.
Enjoy the sexiness of Miami's own, Sofia Luna, as she tantalizes the audience with her sexy burlesque sets. She'll hit the stage right after our host, Mike Mercadal, breaks the ice with some naughty humor.
Couples, arrive when the doors open and enjoy the sensual sounds of a band that will make you sneak out to the car mid-way through the show (and it won't be to check your parking meter). The always sexy "Rhyme, Rhythm, and Reason."
Top the night off with some pole dancing, or a back rub from our on-site masseuse (massages by donation).
Happy Hour is from 8:00 – 9:00, and early in the evening there will be plenty of free drink prize giveaways. Cover is $5 and includes a complimentary drink, but ladies can flash a little thong, and get in FREE and receive a complimentary drink.
Join us on South Beach as we KEEP IT SEXY!
Specials:
Thong Thursdays: Ladies, show us your thongs and get in free and receive a free drink
$5 cover gets you in and your first drink is complimentary.
Drink Specials:
Bar 721 Happy Hour from 2-9 p.m./ Keep It Sexy Happy Hour between 8-9 p.m.
$5 Svedka Vodka drinks all night / $5 Rum drinks all night