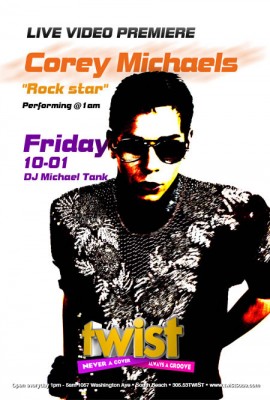 DANCE RECORING ARTIST COREY MICHAELS PREMIERES HIS NEW VIDEO ROCKSTAR AT TWIST SOUTH BEACH
Friday, October 1, 2010 11 p.m.
TWIST South Beach
1057 Washington Av.
Miami Beach, FL 33139
305.538.9478
www.twistsobe.com
Miami-based recording artist Corey Michaels will premiere the music video for his infectious first single "Rockstar" from his debut album, Who Killed the King?, with an exclusive performance at legendary Miami Beach nightclub TWIST on Friday, October 1 at 11 p.m. The music video will premiere in the Frolic Video Lounge at 1:00 am followed by a performance by Corey. Guests can expect a wild set that is sure to entertain the crowd. After the performance, Corey will be gifting t-shirts and copies of his album to his fans during a meet and greet/signing period. Who Killed the King? is available now at the iTunes Store (http://tinyurl.com/CoreyMichaels).
The music video for "Rockstar" was filmed at celebrity favorite Cheeseburger Baby (http://cheeseburgerbaby.net/), a few blocks from TWIST South beach. Inspired by movies such as Scarface and Party Monster, and works by David LaChapelle, the video features a multitude of interesting characters led by Corey Michaels himself as they take over the restaurant for a night of debauchery. "The video takes the viewer on a journey filled with unexpected surprises. I wanted a video that reflected not only my lifestyle, but an era of true glamour and fun," says Corey.
Corey Michaels has written and produced pop/dance music for over six years. After living in Amsterdam, NL he moved back to Miami, FL in the fall of 2008 and began recording Who Killed the King?. The album is described as a fusion of American pop music with Eurodance sounds as each song is a pulsating club banger. Corey has performed all over the world including Exit Club and Piano Bar in Amsterdam, NL and the Florida International University "Break the Silence" pride event. He most recently performed at Wynwood hotspot Cafeina and SCORE Nightclub on Lincoln Rd. For more information on Corey Michaels, please visit www.coreymichaels.com or find him on Facebook. Fans can also follow him on Twitter at @coreymichaels.