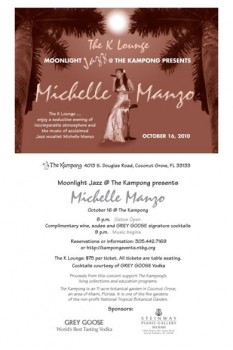 Michelle Manzo performs at Moonlight Jazz @ The Kampong
Saturday, October 16 2010, 8:00 p.m. gates open, 9:00 p.m. music
The Kampong
4013 South Douglas Road
Coconut Grove, Fl 33133
Join us on Saturday, October 16, 2010 at 8:00PM for the opening concert of the Moonlight Jazz @The Kampong series, featuring the seductive music of jazz vocalist Michelle Manzo. This concert marks the beginning of the second season of Moonlight Jazz @ The Kampong, in the performance pavilion surrounded by the lush gardens of The Kampong.
Michelle Manzo has a powerhouse voice and great style, and, as Bob Belden put it, "She is the only singer I know who can bridge the gap between Celia Cruz and Sarah Vaughan."
"If you are looking for a place to enjoy an evening of fine live jazz with other aficionados, where atmosphere and style combine with superb acoustics, then come and experience the K Lounge, " said Vivianne Swietelsky, Chair of the Moonlight Concert committee. "Both artists and audience members have told me that they love the wonderful intimacy of the K Lounge and that no other venue in Miami can compare," she added.
When asked about her upcoming engagement at the K Lounge, Ms. Manzo said, "I am thrilled to perform at the beautiful Kampong K Lounge…such a gorgeous setting, combined with jazz, will surely become an enchanting getaway. It will definitely be an evening to remember!"
Series sponsors are Steinway & Sons and GREY GOOSE Vodka. Seating is limited and by reservation only – The K Lounge tickets are $75, which includes table seating and complimentary GREY GOOSE signature cocktails.
Information and Reservations: 305.442.7169 or http://kampongevents.ntbg.org
Proceeds from this concert support The Kampong's living collections and education programs.