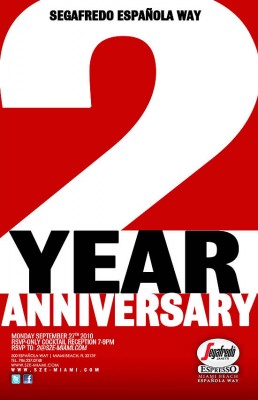 Segafredo Espanola Way 2 yr Anniversary
Monday Sept 27th, 8pm
Segafredo Espanola Way
500 Espanola Way
www.sze-miami.com
Join us on Monday September 27th to celebrate two incredible years of music, drinks and good times at Segafredo Espanola Way. You are cordially invited to a Classic Segafredo Cocktail Reception with coat 8pm – the festivities will continue into the night with special DJs and guest performances. RSVP required for cocktail reception.
Thank you for your continued support as we celebrate 2 amazing years!
8pm: Complimentary cocktails and bites
Please RSVP to: 2@SZE-MIAMI.com
Follow Segafredo Espanola Way on Twitter for more specials and updates: www.twitter.com/segafredoespway