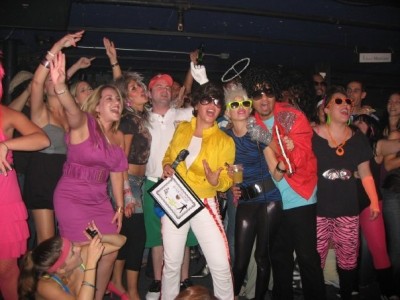 Totally Awesome 80's KARAOKE COSTUME Par-ty (6th ANNUAL)
Sat, Sept 25, 10pm – 5am
Studio Karaoke @ The Shelborne
1801 Collins Ave
ground floor – Shelbourne Hotel
Miami Beach, FL 33139
(305) 695-1770
Facebook evite.
"I started this party with about 15 people and now its always 100 + people rockin!" ~ Victor
COME EARLY + ON TIME
* Arrive early to get your name on the karaoke list + get 1 free drink before 11pm!
BODACIOUS BABES & KICKIN CLYESDALES
* I've whipped up this nasty soiree over at my friend Wyatt's house… You know there's going to be sex, drugs, rock 'n' roll, chips, dips, chains, whips. You know, your basic high school orgy type of thing. I'm not talking candle wax on the nipples or witchcraft or anything like that. Just a couple of hundred kids running around in their underwear acting like complete animals.
V.I.P. THREADS
* Like 80's clothes…fer shur fer shur!
NEW WAVE MUSIC
* Like Wham to Run DMC to Van (Roth) Halen…bitchin!
FRESH 80's INFO
* search 80's movies & classic MTV…dweebs!
* talk to someone in their 30's…barf
KILLER CONTEST & MINT PRIZES
* okay there are no prizes but dress up anyway!!!…Tubular