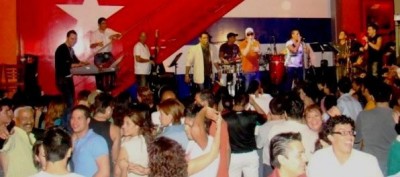 TimbaLive headlines Viernes Culturales on 9/24
Little Havana's Free Cultural Fridays Festival
live music & dance * street artists/artisans * 17 art galleries
unique stores & restaurants * free walking tour
This Friday, Sept. 24, 6:30 – 11 pm
MAIN STAGE LINEUP for FRIDAY, 9/24
9:30 – 11 pm, TimbaLive
8:30 – 9:10 pm, Mariachi Cielito Lindo
8 – 8:30 pm, Fina Escayola and her Students of Flamenco
7:30 – 8 pm, South Florida Circus Arts School
Groove to the hot sounds of TimbaLive on the main stage at Little Havana's Viernes Culturales/Cultural Fridays festival coming up on Friday, Sept. 24. We're also bringing you flamenco dance, Mariachi, acrobatic cirque acts, street performers, local artisans of all backgrounds, and in our Viernes Culturales art gallery the reception for a new group art exhibit curated by master painter Baruj Salinas.
There's plenty more to do, too: take a free walking tour at 7 pm with historian Dr. Paul George, enjoy outdoor dining, play dominos, take a salsa or tango class, visit our 17 art galleries, and savor live music at our unique venues.
Thanks to Verizon for sponsoring this month's Viernes Culturales — and be sure to visit their tent on the North side of 15th Ave. and SW 8th St. for your chance to win prizes in our raffle!
Dance the Night Away with TimbaLive
Get ready to dance when TimbaLive hits the stage on Friday night. Their addictive and hip-swinging blend of Cuban salsa, rumba, son, funk and other world music celebrates the fusion that is Miami. The group is about to leave for their European tour. For a chance to win a T-shirt or album signed by the band members visit our sponsor Verizon's tent at 15th Ave. & 8th St.
Other performers on our Main Stage include El Mariachi Cielito Lindo, the South Florida Circus Arts School (think Cirque du Soleil!) and flamenco dance by the students of legendary local teacher Fina Escayola.
Gallery Openings & Events
At 7:30, visit the opening of a group exhibit of vibrant abstract art curated by Internationally renowned master painter Baruj Salinas. Each artist is a local disciple of Salinas with his or her own unique perspective. The exhibit, Miami Abstractions 2010, pays homage to Wassily Kandinsky and celebrates the 100th anniversary of his first abstract watercolor. Viernes Culturales Art Gallery at 742 SW 16th Ave.
We have many other galleries open during Viernes Culturales. Visit Cremata Gallery's new exhibit of works by Lydia Rubio: Identity Papers 1993-2010, featuring works that explore personal obsessions. Cremata is located at 1646 SW 8th St.
Walking Tour with Dr. Paul George
This Month's Free Walking Tour
At 7 pm, meet legendary local historian Dr. Paul George in front of the Tower Theater (SW 8th St. & 15th Ave.) for a free walking tour focusing on Little Havana's Cuban Memorial Boulevard. Learn about the various monuments and see the homes of a Cuban political prisoner, Cuban artists and the first Mayor of Miami. You'll also learn about local businesses on Calle Ocho east of the Tower Theater.