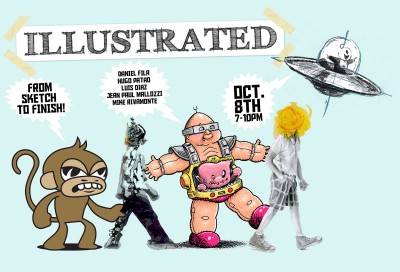 IllUSTRATED From sketch to finish
October 8th 2010, 7pm – 10pm
Bakehouse Art Complex
561 NW 32nd St.
Miami, Florida 33127
bacfl.org
Audrey Love Gallery: Illustrated
Illustration is quickly becoming one of the trendiest art forms seen today, and is unfortunately taken so much for granted through our constant interaction with printed and online materials. This exhibition will take you on a journey from process to result, as it follows the work of BAC illustrators Jean-Paul Mallozzi, Luis Diaz, Mike Rivamonte, Dan Fila, and Hugo Patao.
BAC's 33,000 square foot facility features the artwork and studios of over 70 local Miami artists. Guests are encouraged to visit the studios & speak with the resident artists. All artwork in the studios are for sale directly from the artists themselves. This is the only place in town that guests can get a first-hand look at the artistic process while finding out the story behind a particular piece. The Bakehouse Art Complex has had it roots in the Wynwood Arts District and has been serving the community as the premiere institution for the visual arts in Miami. The BAC is at capacity with Miami's hottest artists. Free parking available!