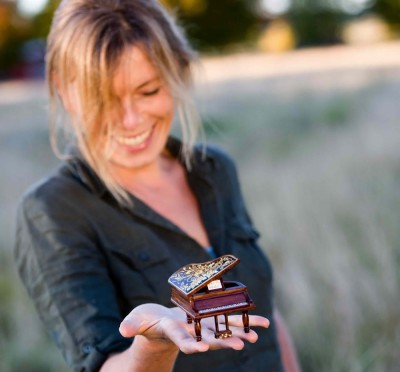 The Beauty of Performing Women …listen live to pianist Annemieke Spoelstra (Netherlands/Europe) performing Chopin:
FREE Private Event RSVP only
CityLoftArt/European Art Gallery – 61, NE 40th Street – Miami, FL
Thursday, Sept. 23rd.2010, 6pm
For RSVP: mail@cityloftart.com – Space is VERY limited !!!
The event is FREE
Annemieke will bring her newest CD 'TOCCARE' and sign it personally.
Please listen to some of her beautiful music samples: www.annemiekespoelstra.com
Pianist Annemieke Spoelstra was born in the Netherlands. Ms. Spoelstra has studied classical piano and received degrees in Music Pedagogy and a Masters in Performance from the Conservatory in Zwolle, where she studied with Prof. Rudy de Heus. She has been awarded as the conservatory's 'Student of the Year': "She has great intelligence in pedagogy and is a sensitive performer in well-balanced programs".
Ms. Spoelstra won the National Young Music Talent (Netherlands) for piano-accompaniment, praised for her touch and coloring. After her studies she has been coached by Tan Crone. She was accompanist for vocalists and instrumentalists at conservatories in Amsterdam, Rotterdam, Arnhem, Zwolle. Annemieke Spoelstra has performed in the Netherlands, France, Germany, Italy, Poland, Switzerland., United Kingdom. In 2004, Annemieke made her way to Vermont. She was staff accompanist at the Boston conservatory (2004-2006), teaches piano at Saint Michael's College and at her studio, accompanies the Saint Michael's College chorale and the Vermont Youth Orchestra choruses, collaborates with vocalists and instrumentalists.
Her first album "toccare" was released in fall 2009.
Our website: www.CityLoftArt.com